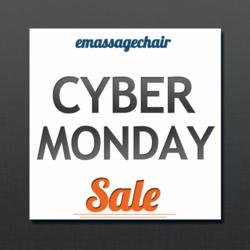 Emassagechair helps shoppers beat the crowds by offering special one day a year sale on massage chairs during Cyber Monday
Las Vegas, Nevada (PRWEB) November 25, 2012
Many shoppers know that Cyber Monday is the best day for online shopping deals. Emassagechair.com is taking part in this great excitement by offering Cyber Monday deals on all of their popular massage chairs. The Monday following thanksgiving dubbed Cyber Monday is always anticipated with tons of excitement, and for good reason. Many online retailers take part in this excitement by offering extensive reductions to help shoppers cash in just in time for holidays. Cyber Monday is also the end of a huge holiday shopping weekend with the start of the weekend and shopping spree being Black Friday. Typically Black Friday has been reserved for in-store shopping, where shoppers line up hours before store openings. Stores also offer extended hours, many starting at midnight to cash in on the day after thanksgiving holiday angst. But this has changed because shoppers have come accustom to seizing the day after thanksgiving and getting deals in every shopping aspect (online & in-store). Since it has become shopping culture, Black Friday has turned into a family event and a major shopping ritual. It's no surprise that after this weekend many return back to work the following Monday still have the holiday gift buying fever. Not all shoppers are shopping for the Holidays. Many shoppers reserve this time to save on larger items, and high priced items that rarely have discounts. This ranges from large electronic retailers like Best Buy, to clothing store like Macy's. But once Monday hits the shift changes to an online shopping frenzy. Since retailers have been offering discounts since Black Friday they extend these sales or change them so shoppers get exclusive deals and one of a kind specials.
This is exactly the case at Emassagechair.com. They have consistently offered online massage chair shoppers great savings and great customer service. As part of this they make sure to not only give great prices on Black Friday, but to go above and beyond in offering something special come Cyber Monday. This is a philosophy followed by many other customer first online stores, like Amazon and Zappos.com.
Visitors to Emassagechair.com can expect great Cyber Monday deals on massage chairs like the Osaki Os-7075r, best selling Osaki Os-4000, to Infinity's It-8500, and brand new It-8100 massage chair. Shoppers will also see additional savings on the Cozzia 16027, 16028, and 16019 massage chairs, as well as new massage chairs from Titan, the TI-7900, TI-7700, and TI-7600. Considering the extensive popularity in alternative therapy and the ease of use of massage chairs, Emassagechair.com has made a great effort in making the massage chair buying process as simple as possible.
Emassagechair.com welcomes any questions about massage chairs, and visitors can call them at 888.360.9996. You can also email Emassagechair.com with questions to support@emassagechair.com.