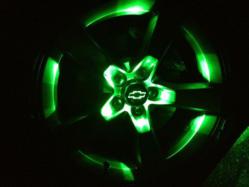 There have been several GloRyder Remote control prototypes over the years but prior to this design the technology just was not practical for such a small device.
Marathon, FL (PRWEB) November 25, 2012
Wheels that light up at the touch of a button? It may seem futuristic but they may be here sooner than you think, in fact they are already here. Available at http://www.gloryder.com for pre-order it is now possible to light up car wheels with a remote controlled device that replaces the center cap and lights up the face of the wheels with a brilliant glow.
The company, Automiq Power & Light, claims that they have already received interest from Ford's Concept Division, as well as a major soft drink manufacturer for the purpose of advertising their products. Not exactly a bad idea considering car wheels are seen all day every day, and now night, by millions of drivers. The billet aluminum cap of the GloRyder Wheel Light is able to be customized and any logo can be machined into the face. The GloRyder lights up the logo at night as well as the entire face of the wheel.
So why lighted wheels? For one thing they look pretty cool. Custom car builders have used the slick wheel lights to draw attention to their wheels and score extra points at car shows. Can Am Spyder Roadster riders say the wheel light accessory makes them more visible on the road and helps them to avoid accidents.
GloRyder Wheel Lights actually have been available since 2005 and have a loyal following but up to this point they have missed the mainstream market as it seems not everyone desired to have the lights on all of the time and wanted more control in choosing when to turn them on or off.
The company says a remote control has been on the table since the beginning of the design. There have been several GloRyder remote control prototypes over the years but prior to this design the technology just was not practical for such a small device. The company finally got tired of waiting and decided to create their own proprietary SMD LED mounting system and some very sophisticated energy conserving circuitry in order to make it work. Additionally, the company says they have already developed their own micro generator for their next technology release. This will eliminate the need for disposable batteries altogether and will power the wheel lights indefinitely.
Sounds like Wheel Lights are here to stay if the good folks at GloRyder have anything to say about it.
Pricing is set at $249.00 for cars and trucks and $169.00 for Spyder Can Am Roadsters. Remote Control GloRyder Wheel Lights are available now for pre-order and scheduled for release 1st quarter 2013.
###