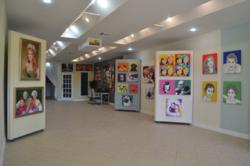 North Miami Beach, FL (PRWEB) November 27, 2012
On the 15th of November 2012 a new type of art store will open its doors in North Miami Beach. PaintYourLife will be introducing an all-new concept in the way people shop for the art they want for their home. Unlike many art stores of the past which catered to only one form of art or perhaps a very small selection of different genres, PaintYourLife's new physical store at 3479 NE 163rd St. North Miami Beach, Florida will allow buyers to create their own amazing array of portraits from photos at very affordable prices.
Here at their store in North Miami Beach buyers will be presented with an array of custom oil painting portraits, custom designed canvas styles, printed photos on canvas, hand crafted painting reproduction, and pop art canvas decorations to choose from. All of the incredible and very affordable works of art offered in the store for sale will be displayed on the walls rather than being displayed in racks, this makes the art easier to see, and also lets them better visualize what the art will look like on their own walls.
For the first time customers will be able to browse the entire collection of an art store without the need to have an assistant bring works out of a back room, or help them sift through rack after rack of paintings and prints to find the one item they really want. The showroom will be open to members of the public and is looking forward to working with many of the local businesses to display as many of these truly unique works of art as possible.
The PaintYourLife shop is expected to be a true "one of a kind" store selling very affordable works of art created by making portraits from photos. Customers will be able to choose from the artwork that is available or they can bring in their own photographs and have them turned into amazing oil paintings on canvas, these unique creations will bring walls to life and will make a very special gift for a loved one. PaintYourLife is the perfect place to find a truly distinctive gift for the one person in your life that is always so hard to buy for.
The potential of this type of art shop is virtually unlimited as it allows buyers to find the perfect form of art to fit their home or office, their world and their lives at exceptionally affordable prices. Unlike many art showrooms where the displayed works can cost thousands of dollars, most the art forms here are priced at far more reasonable prices. Expect great things to come for PaintYourLife following its Grand Opening in North Miami on the 15th of November.
PaintYourLife.com is a world leader in personalized canvas pop art made in cooperation with PickArt llc.
PaintYourLife will support PickArt llc to open the first shop that will sell all PaintYourLife art works. For more information contact PaintYourLife at 3479 NE 163rd St. North Miami Beach, Florida.