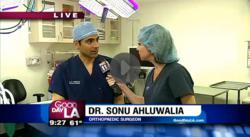 The surgery went really well. Both her menisci were torn and, as you saw, we took care of both of them. So now her knee is going to be good.
Beverly Hills, CA (PRWEB) November 25, 2012
Good Day L.A. watched one of its own go under the knife at the Beverly Hills surgery center La Peer Health Systems on live television.
Maria Quiban, a weather girl on the popular FOX 11 L.A. morning talk show, underwent successful meniscus surgery on her right knee the morning of Monday, November 19. Renowned orthopaedist Sonu Ahluwalia, MD performed Ms. Quiban's knee surgery at La Peer.
"The surgery went really well," Dr. Ahluwalia said. "Both her menisci were torn and, as you saw, we took care of both of them. So now her knee is going to be good."
A torn meniscus is one of the most common knee injuries. Ms. Quiban previously suffered a torn meniscus in her right knee. The meniscus is a crescent-shaped piece of cartilage that acts as a cushion in the knee joint between the shinbone and the thighbone.
After the injury, pieces of her torn meniscus were floating into and out of her knee joint and causing a considerable amount of pain over the past two years. Through minimally invasive arthroscopic knee surgery, Dr. Ahluwalia was able to clean out the frayed meniscus, and thus relieving Ms. Quiban's knee pain.
"She's lost a little bit of her meniscus, but now it looks nice and smooth," Dr. Ahluwalia said. "I don't think it's going to be bothering her anymore."
Her surgery was a success, and Ms. Quiban was able to put weight on her right knee as she crutched out of the recovery room. A follow-up visit is scheduled for Friday, at which time her recovery will be re-evaluated. Hopefully, all will be well and Ms. Quiban will be well on her way to a full recovery.
"I don't feel any pain at all," Ms. Quiban said. "I feel confident even without the crutches."
Dr. Sonu Ahluwalia is a Beverly Hills orthopaedic surgeon at La Peer Health Systems. He is also the Clinical Chief for the Division of Orthopaedic Surgery at Cedars Sinai Medical Center in Beverly Hills. His private practice specializes in sports medicine, shoulder, knee, and hip surgery. He is Board Certified in Orthopaedic Surgery.
La Peer Health Systems focuses on excellence in patient care and offers the most advanced and contemporary treatments and equipment that the medical world has access to. With 42 doctors across 13 departments, from anesthesiology to urology, La Peer offers comprehensive and widespread medical treatments for all patients. More information about La Peer Health Systems can be found at http://www.LaPeerHealth.com.