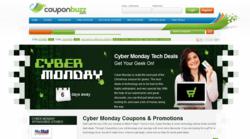 Nothing is more frustrating than getting excited about a deal only to find out it is already over.
Houston, TX (PRWEB) November 24, 2012
Since the proliferation of internet access, not all the mayhem of the holiday shopping weekend belongs to Black Friday. A relatively new phenomenon, the Monday following Thanksgiving each year has been dubbed 'Cyber Monday.' And as Cyber Monday 2012 approaches, CouponBuzz.com, a online coupon aggregate website that has been eagerly following the Black Friday coupons and sales, heralds its arrival with a dedicated Cyber Monday coupon section. This section will feature all of the best Cyber Monday deals and coupon codes in one convenient location.
"We decided to create a Cyber Monday webpage in part because our Black Friday coupon section was so successful," explained Justin Bowen, a spokesperson for CouponBuzz.com. "We had great results and feedback from our site visitors, most of whom really appreciated having all of the offers grouped together in one location. Another purpose of the new Cyber Monday deals section is to help consumers rapidly differentiate between recently launched coupon codes and old ones that are now defunct. Nothing is more frustrating than getting excited about a deal only to find out it is already over."
Usually by the time the Monday after Thanksgiving rolls around the holiday shopping frenzy has spent most of its energy in local stores and shopping malls, as people return to work and children return to school. However, while brick and mortar retail stores usually revert to normal pricing strategies (or slightly higher than normal to recoup from their massive Black Friday discounts), online retailers have their day in the sun hosting massive coupons and sales for Cyber Monday. While this may not be quite fair (as more and more online merchants have also jumped on the Black Friday band wagon,) the fact remains that online retailers have created another massive shopping day all their own.
CouponBuzz.com's new Cyber Monday section will host all of the Cyber Monday deals and coupon codes from their top-selling merchants. The deals will also still be posted, as usual, on these merchants' dedicated web pages at CouponBuzz.com. Individuals who know exactly what brand they are looking for can go directly to the merchant page to check out the deals. But for those interested in browsing through the all spectacular Cyber Monday savings available, visiting the Cyber Monday webpage is the best bet. It can be accessed via the following link, http://couponbuzz.com/seasonal/cyber-monday.