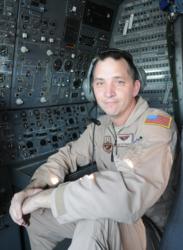 Southwest Asia (PRWEB) November 26, 2012
An honest love for his job and commitment to his co-workers has meant meeting a milestone for one Cincinnati native and 908th Expeditionary Air Refueling Squadron flight engineer.
Master Sgt. Scott Ferneding, a 908th EARS flight engineer deployed to the 380th Air Expeditionary Wing, flew his 365th combat sortie, or mission, Nov. 2.
Ferneding has accomplished these missions all in the KC-10 Extender, and within only the last six years.
It has taken "lots of deployments" to complete so many missions in so little time, said Ferneding, who is currently deployed from Travis Air Force Base, Calif.
"We're not in a bucket," Ferneding said of his squadron members. "Being a global extender, we're enablers, so we can deploy at any time."
KC-10 crews typically deploy for 60 days at a time, two to three times a year.
"It's really hard for a lot of the guys and their families," said Ferneding. "I don't have kids, but me and my wife are big communicators. If it wasn't for Michelle, I couldn't do this."
For Ferneding, "this" means volunteering to deploy so others don't have to.
"People say, 'Send the single guys'," Ferneding said. "I think those guys need to stay home more. I'm always trying to deploy so I can kind of protect those guys a little bit. I volunteer a lot."
Lt. Col. David LeRoy, 908th EARS commander, said Ferneding has the most combat missions of anyone in the squadron currently.
"It says a lot about him as both an Airman and a squadron member," LeRoy said. "It means he has deployed a lot, more than his fair share. (He has) looked out for his fellow squadron members, taking his turn on the deployment schedule, moving up earlier than scheduled when asked to move and not complaining about it.
"Three hundred sixty-five combat sorties, 16 Air Medals and over 3,000 combat hours equals a lot of time away from friends and family in (his) selfless service to his nation, and he does it with a great attitude and commitment to the Air Force. He is a well-respected member of the KC-10 community as both an Airman and a flight engineer, and has served his country well."
Ferneding said he's encountered a lot while flying so many combat missions.
"On my first deployment here in '06, the first couple of flights I didn't think (anything) about it until we had some A-10s roll up," he said. "They gave us their (communication) frequencies so we could listen to them talking to the guys on the ground.
"We could hear gunfire over the radio. I know what an AK-47 sounds like and I could hear that on the radio. After that I bought an American flag and it's flown with me on every flight since."
As the KC-10 flight engineer, Ferneding said his job is to be able to evaluate and react quickly to situations that may arise during a flight, including one that occurred during his milestone mission.
During the mission, he noticed one of the aircraft's three engines was vibrating. His crew considered shutting it down, as the aircraft can fly on two engines. However, another engine began losing hydraulic fluid. Ferneding said he advised they shut down the leaking hydraulic system.
"A lot of it is to be able to look at it, step back and evaluate what's going on," Ferneding said. "It's being able to make those quick judgment calls."
He also said the success of any mission takes the entire crew.
"There's four people on that flight deck. We need all four people to fly that airplane," he said. "I always look for a backup thought (another opinion), because they might see something I don't."
Though all of Ferneding's combat sorties have been as a flight engineer on a KC-10, his more than 16 years in the military haven't been.
"I came in and worked on F-15E (Strike Eagle) models in Las Vegas for eight and a half years," he said. "Lots of (operational testing and evaluation) stuff and advanced weapons schooling. Really cool stuff."
He said that although he cross-trained, his second air frame still allows him opportunities to work with his first one.
"Because I had that job, I helped design systems for the F-15," he said. "On the other side was the weapons school where we taught them how to use that equipment.
"Now as a flight engineer, I'm pressing my buttons and flipping my switches over northern Afghanistan. I look out the window and there's an (F-)15 about 20 feet off my wingtip and I can see a targeting pod that I helped design."
by Tech. Sgt. Amanda Savannah
380th Air Expeditionary Wing Public Affairs