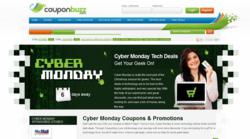 Every year online retailers are pulling out more and more fabulous deals that they have saved just for Cyber Monday.
Houston, TX (PRWEB) November 24, 2012
Now that the smoke is starting to clear from the rubble of the shopping districts leveled by hordes of Black Friday shoppers, a short break appears before Cyber Monday deals start popping up all over the web. Scheduled to launch tomorrow, Sony Cyber Monday specials this year are definitely set to rival their Black Friday offerings. CouponBuzz.com, an online coupon website, is busily posting the Sony Cyber Monday coupons in their section dedicated to coupon codes and special offers unique to Cyber Monday.
Cyber Monday is a relatively recent invention, its first reference appearing in an article posted on Shop.org in 2005. However Cyber Monday seems to be the internet retail world's way of prolonging the magic of Black Friday frenzy via methods uniquely available to online merchants. By Monday morning, most consumers have reluctantly returned to work. However, often it seems that half of their brains are still in shop mode, triggered by the weekends shopping marathon. Or perhaps subconsciously prepped by the cheery holiday music piped relentlessly through every retail store they visited. So while the boss isn't looking, cautious fingers begin to type in search terms like "Sony HDTV – sale" – just to see what results show up.
And for these cautious shirkers, an impressive list of results will pop. From televisions and sound systems to laptops and digital cameras, Cyber Monday is offering deals that often rival their Black Friday progenitors. And CouponBuzz.com plans to have among the very topmost results their multiple Sony Cyber Monday coupon codes and deals which they are busily updating as they create the new Cyber Monday section.
"Cyber Monday is, as you might expect, a growing phenomenon that we in the coupon business love as much as the consumer," enthused Justin Bowen, founder of CouponBuzz.com. "Every year online retailers are pulling out more and more fabulous deals that they have saved just for Cyber Monday. And savvy online shoppers are starting to wait out the Black Friday craziness with clever patience, ready to be rewarded by a sweet Cyber Monday deal."
Online shoppers interested in accessing the Sony Cyber Monday deals can find them all posted in CouponBuzz.com's new Cyber Monday coupon section, located here http://couponbuzz.com/seasonal/cyber-monday.