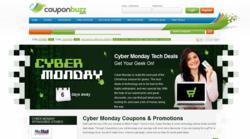 We are very excited for the unveiling of the MacMall.com Cyber Monday deals.
Houston, TX (PRWEB) November 24, 2012
Cyber Monday is becoming universally beloved as a second-chance shopping day. An opportunity for everyone who missed the boat on a fabulous deal on Black Friday to get it right the second time. Today CouponBuzz.com announced that their new Cyber Monday coupon section will also feature MacMall.com Cyber Monday coupon codes, along with other popular electronics retailers like HP, Sony, Lenovo and Best Buy. For online retailers, Cyber Monday stands as an extra day to capitalize on the shopping frenzy whipped up by the holiday weekend.
One of the greatest challenges merchants face in the demanding market space of the retail sector is the increasing need to cater to a generation of 'millennials.' Consumers born after the dawn of the internet, for whom online interaction is as natural as breathing – or more so. The ability of a merchant to omnichannel, or focus their resources on both online sales as well as brick and mortar sales, is becoming a key differentiator in determining which brands will be around for the future. Not surprisingly, Apple does extremely well with omnichanneling, in part due to their careful monitoring of their authorized re-sellers, like MacMall.com. For example, the MacMall.com Cyber Monday coupons will complement, rather than compete with the primary sales focus at Apple.com
"At CouponBuzz.com we are consistently impressed with the caliber of the offerings available from MacMall.com," stated Justin Bowen, a spokesperson for CouponBuzz.com. "Their coupons are planned well in advance and easy for consumers to utilize. We are very excited for the unveiling of the MacMall.com Cyber Monday deals, and expect to gain a lot of site traffic from these impressive sales."
The new Cyber Monday coupon section at CouponBuzz.com was created to help online shoppers streamline their Cyber Monday shopping experience. By collating all of the best Cyber Monday specials in one location, it allows site visitors to price compare and shop the details on specific items. Online shoppers interested in visiting the Cyber Monday webpage at CouponBuzz.com can access it via the following link http://couponbuzz.com/seasonal/cyber-monday.