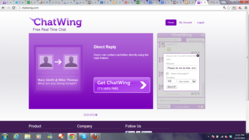 San Francisco, CA (PRWEB) November 25, 2012
Flash games are now ranked as one of the most common games in the Internet today. Every now and then, web users are trying out the latest flash games to satisfy their game cravings. With the rise of the flash gaming niche, many flash game developers have managed to find stable sources of income. The Chatwing Development Team has reached out to the flash game development community through its latest informative chat widget. The Chatwing application focuses on global connectivity at its finest.
Based on the observation of Chatwing's developers, most flash game developers are maintaining websites or blogs. Through these websites, the flash developers are always marketing their newest game creations. Chatwing's free chat box can help these website owners reach large groups of people. In a Chatwing chatroom, thousands of visitors can discuss different things about the host website's niche. Website owners can also use the Chatwing chatroom to know their visitors more.
In the flash gaming world, there are millions of niches that one can discover. According to the research done by Chatwing's developers, flash gaming niches consist of action, adventure, comedy, cooking, girl-oriented games, adult, and many more. Flash game developers can also rely on the Chatwing chatbox when it comes to social media leverage. In the recent Chatwing app version, visitors can log in with their Facebook or Twitter accounts. The Chatwing Dev Team will continue to add more login options.
Chatwing's major step to the flash gaming community is just a fragment of its grand strategy campaign. Chatwing's developers are planning to introduce the free chat widget to different niche communities, including the online gaming sector.
About Chatwing.com
Chatwing.com specializes in the new field of website chat. Over years, the Chatwing team has introduced live chat widget for hundreds and thousands of blogs. The Chatwing application bridges people from many parts of the world, creating global synergy through the Internet. The shout box can be installed in just seconds, and it can be used for varying purposes such as leisure and Internet marketing. It also allows a user to customize the size, color, and name of the widget. Chatwing is 100% free for everyone.