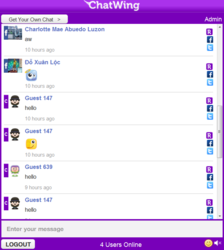 San Antonio, TX (PRWEB) November 26, 2012
The podcast community is still a growing sector, despite the numerous online portals that have appeared all over the Internet. This fact has emphasized web user's overall appreciation for the music industry. Everyday, hundreds of podcast websites and blogs are being created to attain a specific purpose. With this fact as template, the Chatwing Development Team has introduced a chat widget capable of providing a new online chat experience for everyone. Now, podcast websites can gain streams of traffic at any time.
Podcast websites often have detailed playlists about the hottest music today. Alternatively, podcast website owners would feature global news about the hottest bands, music artists, and even music niches. Chatwing's free chat box can help podcast website owners connect to larger groups of people. Once the Chatwing chatroom app has been installed, it will start gathering online traffic and visitors can now exchange valuable information.
Other podcast website owners have also showcased their musical creations—whether it is a MIDI or a timely song. With the connectivity options featured by the Chatwing chatbox, the podcast website owner can introduce their musical creations easily. The recent version of the Chatwing chat app has focused on customization features and admin options. In this way, users can now tweak the overall appearance and parameters of the chat app.
The podcast niche will continue to grow, based on the observation of the Chatwing Dev Team. This claim has been strengthened by the fact that new music appears every now and then. To help more website owners gain the communication leverage offered by Chatwing's free chat widget, the developers will continue working on new features. These upgrades will be posted in Chatwing's official Facebook page.
About Chatwing.com
Chatwing.com specializes in the new field of website chat. Over years, the Chatwing team has introduced live chat widget for hundreds and thousands of blogs. The Chatwing application bridges people from many parts of the world, creating global synergy through the Internet. The shout box can be installed in just seconds, and it can be used for varying purposes such as leisure and Internet marketing. It also allows a user to customize the size, color, and name of the widget. Chatwing is 100% free for everyone.