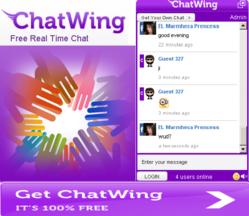 New York, NY (PRWEB) November 26, 2012
People are now creating websites and blogs for many varying purposes. One of the most common of these purposes is online entrepreneurship. All over the Internet, entrepreneurs are appearing in thousands of niche markets. As Chatwing Dev Team introduced its latest chat software, the developers have also emphasized important website leverage points. Website owners, especially entrepreneurs, can benefit a lot from the leverage points that are highlighted by Chatwing's premier chat application.
Social media integration is the first factor brought by the Chatwing chatbox. Once installed in any website, visitors of the Chatwing chatroom can now log in with their Facebook or Twitter accounts. Visitors can now send invitations to each other. In a greater sense, the website owner can also expand his social network. Online entrepreneurs can also rely on this factor during their soft marketing campaigns.
Application flexibility is another important factor that can be offered by the Chatwing app. After domain registration, the user can now proceed to his Chatwing dashboard. There, he can set the appearance of the free chat widget. He can mix and match colors indefinitely. Admin parameters were also included to ensure that the user has full control of the Chatwing chatroom. Now, website owners can delete messages in just one click, and they can also ban obnoxious visitors with a specialized ban message. Visitors can also be banned through their Facebook or Twitter usernames—this simply means that they are now permanently banned in the Chatwing chatroom.
Greater connectivity is the last but, perhaps, the most important thing pointed out by the Chatwing chat box. According to Chatwing's developers, the chatroom was subjected to various platform tests in order to find the right efficiency. Adding to that, the Chatwing shoutbox's improvements allowed large influx of users from different online sectors.
About Chatwing.com
Chatwing.com specializes in the new field of website chat. Over years, the Chatwing team has introduced live chat widget for hundreds and thousands of blogs. The Chatwing application bridges people from many parts of the world, creating global synergy through the Internet. The shout box can be installed in just seconds, and it can be used for varying purposes such as leisure and Internet marketing. It also allows a user to customize the size, color, and name of the widget. Chatwing is 100% free for everyone.