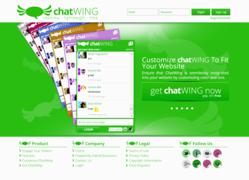 Cambridge, MA (PRWEB) November 27, 2012
Reliable, efficient and better free chat widget – this is Chatwing's primary goal. Chatwing dev team has never stopped improving their chatbox for three years now. Every month, a new feature is added to the web chat tool. The newest version includes image and music link upload features putting its customization options to the next level.
Chatwing chat software is created under a simple mechanism and a stable platform. This makes it compatible to all websites and blogs. This also makes Chatwing installation easy.
Various customization options are provided to Chatwing users. A wide range of colors are available for users to experiment with since they can change the widget, the username and the message's hue. Chatwing users can also change the border design of the free chatbox. To personalize the chat software more or optimize it for brand promotion, web owners and bloggers are allowed to upload pictures to serve as chat tool's background image. Uploading MP3 link would also intensify the website or blog's uniqueness thus attracting more online visitors.
Chatwing also facilitates easy online network expansion through its social media integration feature. Web and blog visitors can log in and join chat discussions easily by just logging in with their Facebook and Twitter accounts, making the widget and the site accessible to all web users.
Now, web administrators and moderators will be able to maintain harmony effortlessly. Full conversation control feature is available for Chatwing free chat box users. Banning abusive chatters, filtering out profane words and deleting obscene messages can be done real time. This ensures that the website or blog maintains its decent and professional image.
About Chatwing.com
Chatwing.com specializes in the new field of website chat. Over years, the Chatwing team has introduced live chat widget for hundreds and thousands of blogs. The Chatwing application bridges people from many parts of the world, creating global synergy through the Internet. The shout box can be installed in just seconds, and it can be used for varying purposes such as leisure and Internet marketing. It also allows a user to customize the size, color, and name of the widget. Chatwing is 100% free for everyone.