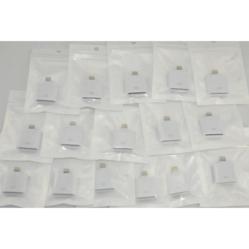 Wholesale Third-party Lightning to 30-pin Adapter is much cheaper than official price.Even OEM is acceptable.
(PRWEB) November 25, 2012
When one began to use the iPhone 5, he or she didn't really be aware of how much of a pain it would be, until he began to find charging cables for their all existing devices with 30-pin accessories that fit Apple's new Lightning connector.
The unimaginable truth is that Apple charges almost 40usd for its so-called official Lightning to 30-pin adapter, which maybe have some comprehensive design and some technique in deed. But who will believe its worth is up to 39.9USD although it is a great and cute connector? Even a fool can realize it real value and will laugh at Cook's greed. The cost is already obvious under 9usd as all material prices are explicit except internal chips which are called to be inserted security formulas.
Thankfully, wholesale "Lightning to 30-pin adapter" and "Lightning to 5-pin adapter" are obtainable for users from Shenzhen Esorun Technology Co. Ltd to guarantee all of aged 30-pin products get the job done for Apple's new iPhone 5. Besides these adapters, Esorun also produced some Lightning adapter cables for iPhone 5 and iPad Mini fans. The difference between adapter and adapter cable is the latter provides a 20cm cable. Like information indicated at Apple official store, as third-party, Esorun's adapters will identically let users connect devices with a Lightning connector to all 30-pin accessories. All those adapters support analogue audio output, USB audio, as well as syncing and charging, except Video output which Apple's official adapter also does not work. The wholesale price is between 5 usd and 6.5 usd, much cheaper than Apple's official price.
Moreover, Esorun also sells other interested and creative Lighting products which are already popular for iPhone 4, iPhone 4s and iPad users. One of them is Magnetic Wrist Cable with 8-pin connector which is made with a built-in magnet to stick each other or other metal stuff. Ingenious design makes it can circle user's wrist, like a fashionable Ornament. Another is an 8-pin dock connector with a luminous 8-pin cable for iPhone 5 and iPad Mini users. Dock could be used as a stand when one want to enjoy a movie or face time whilst luminous function is just make your room sparkling and romantic at night.
All these colorful products support "iTunes, Data Sync and Battery Charging" and "uses parts of same quality as Apple suppliers." Considering the Apple's high selling price and monotonous color, purchasing from a third-party could be a wise choice.