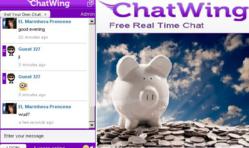 Los Angeles, CA (PRWEB) November 28, 2012
Global investing has now become easier with the help of websites and online transactions. Based on global research, financial investors were able to check out new investment options in just few clicks of the mouse. To help investment beginners gain reliable information, the Chatwing Development Team has introduced a website chat widget that can be installed to any website. The Chatwing chatroom can help the average web user in many possible ways.
Website visibility can now be ensured by Chatwing's free chat box. Through continuous usage, a website can gain bouts of online traffic by a high percentage. This factor may vary, depending on the overall content of the website and interaction style done by the website owner. Chatwing's chatroom app also focuses on the customization options that can be adjusted freely by any user. The Chatwing shoutbox has over hundreds of color combinations to choose from.
Investors can rely on Chatwing's chatroom tool when it comes to global information. Typically, an investment website will have visitors that are also looking for ways on how to let their cash bloom. These investors can now exchange information with each other and the website owner can even share his tips and investment strategies. Chatwing's developers have also emphasized that the free chat widget is meant to bring the premise of website communication to a whole new level.
Chatwing's expansion to the financial investment community is a small step albeit a very important one. The Chatwing Team will continue tweaking the chat software so that it can deliver optimum performance for thousands of users.
About Chatwing.com
Chatwing.com specializes in the new field of website chat. Over years, the Chatwing team has introduced live chat widget for hundreds and thousands of blogs. The Chatwing application bridges people from many parts of the world, creating global synergy through the Internet. The shout box can be installed in just seconds, and it can be used for varying purposes such as leisure and Internet marketing. It also allows a user to customize the size, color, and name of the widget. Chatwing is 100% free for everyone.