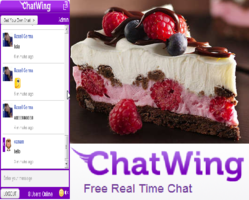 San Antonio, TX (PRWEB) November 29, 2012
Food websites are essential parts of the Internet nowadays. Through these websites, people can now gather the best recipes and incorporate them in their cooking styles. Cooking techniques are also often included in food websites, along with various reviews. The Chatwing Development Team has decided to empower food website creators by launching an adaptable chat widget. This recent chatroom app can be installed to any website and can ensure streams of online traffic.
Food websites can benefit from a small tool that encourages communication among visitors. Chatwing's free chat box may be a simple tool but it serves the purpose of communication. In the Chatwing chatroom, visitors can say what they want and share any information they like. Since the average Chatwing chatroom accommodates more than a thousand users, the website owner can communicate at a very significant rate. Early users of the Chatwing app have attested that the chat tool allowed them to expand their networks easily.
Aside from providing a 'bridge' of connectivity, Chatwing also offers a form of social media extension. With this, users can log in with their Facebook or Twitter accounts, eventually giving chances to people who want to join social media communities. This is useful for food website creators who are looking for new alternatives in their recipes and cooking choices. Chatwing's elite chatbox can also be customized freely by any user.
Efficient global communication is just one of the goals of the Chatwing Development Team. The company is always looking after the needs of web users, website creators, and basically everyone who wants to surf the Internet. To keep this dedication strong, the company will implement new upgrades to the free chatbox. Information about these upgrades will be posted in Chatwing's official Facebook page.
About Chatwing.com
Chatwing.com specializes in the new field of website chat. Over years, the Chatwing team has introduced live chat widget for hundreds and thousands of blogs. The Chatwing application bridges people from many parts of the world, creating global synergy through the Internet. The shout box can be installed in just seconds, and it can be used for varying purposes such as leisure and Internet marketing. It also allows a user to customize the size, color, and name of the widget. Chatwing is 100% free for everyone.