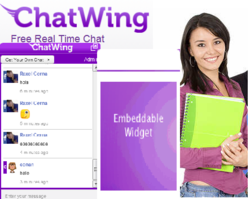 Denver, CO (PRWEB) November 29, 2012
Chatwing is now ready to offer a website visibility tool for health website creators. The recent chat software from Chatwing Development Team is filled with helpful features, along with social media advantage that can help web users gather information at a very quick rate. For health websites, a versatile chatroom is necessary in creating unlimited streams of web traffic. The Chatwing chat app also serves as an inquiry tool for all visitors.
The latest free chat box offered by Chatwing focuses on wide-scale customization options, versatile admin functions, glitch-free platform, and easy installation process. These important factors can help a health website owner generate traffic in the least possible time. The Chatwing chatroom can offer swift communication in just a matter of seconds. Additionally, users can log in with their social media accounts. This is the reason why online marketers have recently relied on the Chatwing chatbox for their campaigns.
Visitors of a health website can use the Chatwing chat box to post their timely inquiries. The Chatwing Team has noted that health website visitors are often asking about alternative diets and the destructive effects of modern-day food. Some visitors have also asked about raw food diet and miracle cures. The health website owner can take advantage of the connectivity offered by the Chatwing chat app by learning more about his visitors. The Chatwing shoutbox eases up the overall communication process.
Chatwing's free chat widget is now operating on a global scale. The developers have started introducing the application to many prominent online sectors. To cope with the projected influx of users, the Chatwing Team will create many platform upgrades in the coming weeks or months.
About Chatwing.com
Chatwing.com specializes in the new field of website chat. Over years, the Chatwing team has introduced live chat widget for hundreds and thousands of blogs. The Chatwing application bridges people from many parts of the world, creating global synergy through the Internet. The shout box can be installed in just seconds, and it can be used for varying purposes such as leisure and Internet marketing. It also allows a user to customize the size, color, and name of the widget. Chatwing is 100% free for everyone.