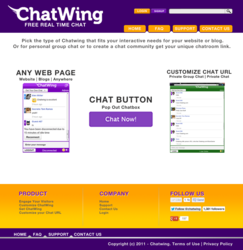 Pittsburgh, PA (PRWEB) November 29, 2012
Many entrepreneurs and businessmen today would attest to the sheer importance of customer service. In a nutshell, a company with bad customer service will always have bad feedbacks from customers. Eventually, this will affect a company's reputation and amendments will usually cost high. The Chatwing Development Team has recently emphasized the importance of customer service by releasing a new chat widget optimized with connectivity options. The Chatwing app may look simple but it can make a website highly visible in just few days and weeks.
Once the Chatwing chatbox is installed in any website, it will serve as a bridge of connectivity for visitors. In a typical sense, companies often have official websites that people can visit. Chatwing's chatroom app turns a portion of a website into a lounge where people can gather and start discussing many things. Usually, these things are related to the host website. Since the Chatwing chatroom app is all about real-time communication, visitors can start posting their questions and inquiries. In this way, the website owner can deal with these inquiries swiftly.
Chatwing's newest chat software also allows a simple image upload option. With this, the website owner can modify the appearance of the shoutbox. Colors can be mixed and matched in order to find the right combination. The default Chatwing theme is purple, but other website owners have tried color schemes like red, orange, yellow, green, blue, and even black.
Chatwing's free chat box can also assist a company's marketing process. The website owner just needs to interact often with the visitors. The average Chatwing chatroom can handle thousands of users at any given time, and unlimited moderators are allowed. If the company maintains numerous websites, the chatroom can still be used because Chatwing allows multiple chat boxes.
About Chatwing.com
Chatwing.com specializes in the new field of website chat. Over years, the Chatwing team has introduced live chat widget for hundreds and thousands of blogs. The Chatwing application bridges people from many parts of the world, creating global synergy through the Internet. The shout box can be installed in just seconds, and it can be used for varying purposes such as leisure and Internet marketing. It also allows a user to customize the size, color, and name of the widget. Chatwing is 100% free for everyone.