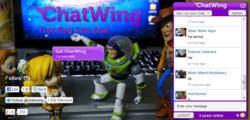 New York, NY (PRWEB) November 29, 2012
The boundaries of adventure gaming has reached a valiant apex with the release of Skyrim. According to global statistics, many Skyrim players are still focusing on the game nowadays—especially to the latest downloadable contents: Hearthfire and Dawnguard. Chatwing Development Team continuously extends its strategic reach to avid Skyrim players. Lately, the company has launched its newest chat software in order to enhance global connectivity in many possible ways.
As Skyrim's two downloadable contents were released, many players have started setting up websites. These websites usually discuss Skyrim tips, secrets, and quest walkthroughs. Chatwing's free chat box can help these website owners generate continuous traffic for their websites. Some website owners who used the Chatwing shoutbox have also attested that their websites had a significant leap in web visibility.
In the latest version of Chatwing's free chat widget, the company has focused on improving customization features and admin privileges. The application's new features can help website owners customize the widget according to the theme of their websites. They can now edit colors and sizes separately, while certain admin parameters can be set. These parameters are word filters, login methods, ban messages, ban time, and unlimited moderator setup.
Aside from Skyrim players and website owners, the Chatwing Development Team is planning a strategic expansion to other online sectors. This simply proves that Chatwing's free chatbox is highly versatile and reliable in terms of communication. Chatwing app's developers are also planning to add more unique features that can make the shoutbox more competitive than ever.
About Chatwing.com
Chatwing.com specializes in the new field of website chat. Over years, the Chatwing team has introduced live chat widget for hundreds and thousands of blogs. The Chatwing application bridges people from many parts of the world, creating global synergy through the Internet. The shout box can be installed in just seconds, and it can be used for varying purposes such as leisure and Internet marketing. It also allows a user to customize the size, color, and name of the widget. Chatwing is 100% free for everyone.