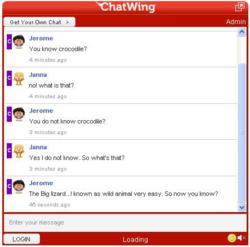 Chicago, IL (PRWEB) November 30, 2012
Chatwing's free chat widget had undergone various developments based on Chatwing research team's studies on the web users' communication needs. In three years of producing quality web chat applications, Chatwing dev team continuously observes and seeks for opportunities to enhance the global chatbox. Many website owners, forum makers and bloggers are embedding Chatwing to their site to increase their online traffic and attract potential clients. Chatwing offers a dynamic and reliable web chat application that is easy to use and install.
One of the most important developments Chatwing included in their newest chat software is the full conversation control options. This feature empowers website and blog owners, as well as web administrators. Chat conversations can be profanity-free, maintaining the site's professional image which is important to most business websites. Installing Chatwing chatbox to one's site will engage more users. This simple chat tool is stable and powerful enough to accommodate a thousand users simultaneously.
Chatwing's full conversation control also let's web administrators and moderators ban users and delete messages real-time. This feature is helpful for maintaining a child friendly or wholesome reputation on the net. Users who can not be requested to stop using profane words can be immediately blocked. The free chat box also has a word filter options that automatically filters out demeaning terms. Users just have to list down the terms that are not supposed to appear in the widget and the application automatically does its job.
Using Chatwing free chatbox as the website's primary real-time communication tool also helps the site stay socially connected. The chat application is designed to be accessible to Facebook and Twitter users. Important chat conversations can shared easily, too, from the widget to one's Facebook wall.
About Chatwing.com
Chatwing.com specializes in the new field of website chat. Over years, the Chatwing team has introduced live chat widget for hundreds and thousands of blogs. The Chatwing application bridges people from many parts of the world, creating global synergy through the Internet. The shout box can be installed in just seconds, and it can be used for varying purposes such as leisure and Internet marketing. It also allows a user to customize the size, color, and name of the widget. Chatwing is 100% free for everyone.