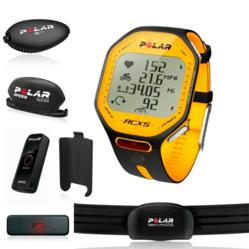 You'll never see prices this low again on any of these items so the time to act is now
Bozeman, MT (PRWEB) November 24, 2012
The Heart Rate Watch Company is offering huge savings on Garmin and Polar heart rate monitors for Cyber Monday, November 26th.
"For starters save $250 on the Polar RCX5 Tour de France Premium Bundle, save $150 on Garmin Edge 800 bike computer and save $100 on the Garmin 610 GPS watch", says Tarie Beck, spokesperson for the Heart Rate Watch Company. She adds, "You'll never see prices this low again on any of these items so the time to act is now because December 3rd it's all over".
FREE FITNESS BOOKS - $50 VALUE
All customers will receive two free books written by Heart Rate Watch Company founder, and world record holder, Rusty Squire. The books, entitled "How to Successfully Use A Heart Rate Monitor" and "How To Elevate Fitness Through Strength and Interval Training" give people the necessary tools to succeed with fitness and weight loss goals using a heart rate monitor.
"Once upon a time I thought we would sell these books but I wanted them to have a much wider impact upon our customers and their success, so we decided to give them away", says Squire.
SALE ITEMS
In addition to the Polar RCX5, Garmin Edge 800 and Garmin 610 mentioned above, the Heart Rate Watch Company is also offering a free Garmin speed and cadence sensor, a $50 value, with the purchase of all compatible Garmin products.
"It's like Crazy Days at Christmas at the Heart Rate Watch Company", says Squire, adding, "But, act quickly because these deals will be over very soon".