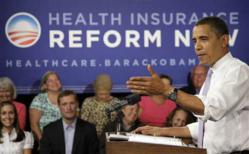 "Affordable health insurance you can rely on is a key part of middle-class security." -- Obama Administration
Washington, DC (PRWEB) November 26, 2012
Health insurance can be very difficult to understand, but not anymore!
AffordableHealthInsurance.org, a comprehensive web site that is constantly updated with new information and resources, gives users all the answers they need for their questions about Obamacare, health insurance and more. Even more, the web site now features a list of all the affordable health insurance programs in every single state - from Alabama to Wyoming.
Research from early 2012 shows that most Americans have no idea what Obamacare is or how it can hurt or benefit them. Others know what it is, but have no idea how to take advantage of it. But this web site, produced by the Affordable Health Insurance Network, teaches you everything... for free.
Visitors can learn about all the federal and state-funded health insurance programs that are available to all children, senior citizens, low-income families, and others who qualify. Users can also learn about the top misconceptions about health insurance, the best companies with affordable plans, the top organizations and government agencies, and the top health insurance experts and advocates.
They can also get free online quotes to compare the best plan for them, or via their toll-free hotline at (888) 389-4154, available 24/7, users can even call to speak to a live agent to find the best individual and family health insurance plans.
About The Affordable Health Insurance Network
Believing that many are either uninformed or misinformed, their goal is to educate insured and uninsured Americans about how to obtain reasonable coverage, how to avoid the scams, and how to stay in-the-know. They are also educating consumers about ObamaCare, what it is, and what it really means for families now and in the future.
For more details or for a free health insurance comparison quote, visit http://www.AffordableHealthInsurance.org or call (888) 389-4154.