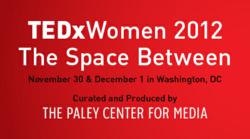 Asheville, NC (PRWEB) November 24, 2012
UNCAsheville student, Anna Koeferl, has been selected by TEDx to host the local event in Asheville, North Carolina. The event will take place Saturday, December 1st from 1:45 pm - 6:00 pm at The Grotto at UNCAsheville.
TedxUNCAshevilleWomen is a locally organized event based around the TEDxWomen Conference held in Washington D.C. at the United States Institute of Peace on November 30 and December 1, 2012. Independent Organizers apply to host a local event which will offer both local speakers and live streaming from the event.
The theme of this year's event is the "Space Between." The Space Between will deepen the conversation TedxWomen started two years ago at previous conferences- which is how women are less likely to approach subjects from a black-or-white perspective as they see gray area in between. We are wondering, what does that mean? Does it conjour up the space between two strangers, the space between your values and how you live your life, the space between anger and curiosity? Women know that this is where life happens: the places in between.
Join UNC Asheville students & TEDx attendees in viewing and discussing the TEDxWomen event, streaming live from Washington, D.C.
The event is free to the public and will be limited to the first 100 guests.