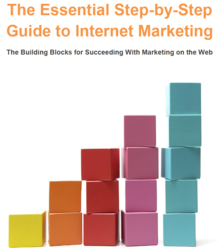 This e-book can serve as your essential guide to setting up and implementing a successful online strategy.
(PRWEB) November 27, 2012
Assist Communications is offering a free e-book, "The Essential Step-by-Step Guide to Internet Marketing."
"Internet marketing can increase branding, engagement, thought leadership, leads and revenue for a significantly smaller investment than traditional marketing," said six-time Pulitzer Prize nominee Mark O'Keefe, owner of Assist Communications. "But Internet marketing is only useful for organizations that have the know-how to make it happen. This free e-book is a fantastic way to get started."
The 34-page guide covers these 8 steps to Internet marketing success:
1. How to define a keyword strategy
2. How to optimize your website to get found
3. How to create blog & other marketing content
4. How to promote content & participate in social media
5. How to convert site traffic into leads
6. How to nurture leads with targeted messages
7. How to optimize your marketing for mobile
8. How to analyze & refine strategies
Assist Communications is a Washington, D.C. consulting agency that increases its clients influence, leads and revenue with content marketing. The co-branded guide is a result of a new partnership between Assist and Hubspot, a Boston-based software company in the vanguard of the latest research and strategies for Internet marketers.
The partnership means that in addition to providing nationwide feature stories guaranteed to run in at least 700 news outlets, e-books (like this one), blogging, infographics and other creative services, Assist now offers its clients Hubspot's all-in-one marketing software and strategy to increase their leads, customers and revenue.
Downloading the e-book is easy with a simple form that requires just a name and an email address. There is no obligation.
"Whether you work for a small nonprofit just getting started with Internet marketing or a medium-sized business needing a brush up on Web marketing best practices, this e-book can serve as your essential guide to setting up and implementing a successful online strategy, step by step," said O'Keefe.