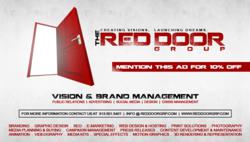 I always knew I had more to offer businesses. There was so much more I knew I could do to help create a long-lasting image with their current and future customers.
Tampa, FL (PRWEB) November 27, 2012
Three years ago, a student-run company by the name of Red Door Entertainment was created in order to provide events and entertainment for college students around the University of South Florida and surrounding areas. Three years later, that same company has learned, grown, and re-positioned itself as a team of professionals specializing in marketing, branding, and customer engagement; the company is now known as The Red Door Group. Whether it be a public relations campaign, design re-creation, or social media consultation & management, The Red Door Group has formed a team with nearly twenty years of experience in the industry ready to provide a modern, creative, and effective approach to the branding and recognition efforts for its clients. Utilizing the many connections formed with the millennial generation, the company is also able to offer its clients new and unique ways to connect with the younger age groups in addition to their regular target audiences.
Coming from a family line of small business owners, Ryan Kearns, Owner & Founder of The Red Door Group, has always had the desire to not only start a small business but also serve and assist the small businesses in his community. After spending three years learning the skills needed to run a small business and manage a workforce, Ryan has taken that experience and knowledge within the marketing industry in order to form a new business with one main goal in mind: creating the visions and launching the dreams of other small businesses.
The inspiration to begin The Red Door Group came from the simple desire to see other businesses expand, grow, and gain brand recognition within the community. Seeing a company's vision become a reality is a passion of Ryan's. He had already established many working relationships within the Tampa area in order to assist some small businesses with their branding on a small scale, but there was something missing. "I always knew I had more to offer businesses. There was so much more I knew I could do to help them create a long-lasting image with their current and future customers," Ryan explains. With more education and an experienced team, that passion has become a reality.
Although small businesses are the main targets of the company, there is a big commitment to assisting charities and non-profit organizations. One of their main clients is the Huge Dreams Foundation, Inc. which is working to raise funding and awareness for child abuse. The Red Door Group is currently running the public relations campaign for the organization and its upcoming events and is looking forward to helping similar organizations in the near future.
Vision and brand management consisting of practices in public relations, advertising, design, social media, and crisis management are the main specialties of the company. The company is founded on integrity and self-giving, and those values transcend through its work. The business believes that the customer always comes first, and it will utilize the young but experienced and effective team to bring those customers to the forefront of the community.
About the Red Door Group:
Through design, social media, public relations, and advertising, the Red Door Group is taking traditional marketing methods and combining them with modern and creative styles in order to provide the best and most effective service to its clients. Media relations, branding campaigns, creative design, and customer engagement are just the surface points of what the Red Door Group offers its customers.
Contact Information;
Ryan Kearns, Owner & Founder
Ryan(at)reddoorgrp(dot)com
813-501-5401
http://www.reddoorgrp.com