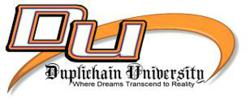 Lake Charles, Louisana (PRWEB) November 26, 2012
Duplichain University recently donated $1,145.00 for Africare's Safe Wells project. This donation provided clean and healthy water supplies to rural and remote communities in Africa-giving access to those who are in dire need of this basic natural resource. Africa is faced with significant challenges in the development of water resources. Today, more than 300 million people in the African continent have limited access to safe water-essential for drinking, cooking, and personal hygiene. Clean water greatly reduces illnesses that afflict children and adults alike, preventing them from becoming productive members of their communities, and in too many cases even taking their lives. In partnership with the African Well fund, Africare is able to provide clean, safe water for entire communities.
Duplichain University is a global online learning institution offering undergraduate and graduate degrees in Education and Criminal Justice. Duplichain University offers an innovative learning approach in a supportive, nurturing and flexible academic environment. Students enrolled in Duplichain University develop, refine, strengthen, and enhance their skills in a discipline of their choosing, while maturing academically, intellectually, and personality.