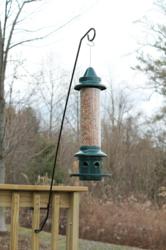 My goal was to avoid damaging my new deck.
Asheville, NC (PRWEB) November 26, 2012
The quickest and easiest deck mounted brackets now made in the USA. Blue Ridge Bracket Systems of Asheville NC, announces that it has expanded its' manufacturing of brackets in the USA. They will continue making their 36" Bird Feeder Hangers in the USA, as well as new lines of planter / shelf brackets. These patented deck mounted brackets are truly the easiest in the world to install! According to the inventor, Terry Reno, he was trying to come up with a bracket that would not damage his new deck. "We had just built a new deck and my wife announced that she was going to put planters on it. My comment was, as long as you don't damage it. I looked in the stores and did an online search, and soon discovered that every bracket on the market will cause damage. Screws and nails will split the pickets, the ones that hook over the top rail warp the rail and trap water, and just letting the planters sit on the deck is worse than anything. I got a quick vision and made the proto-types. They worked, but were heavy and expensive. After some refinement I came up with what we have today. The fact that they install so quickly with no tools and are as strong as they are is the icing on the cake. My goal was to avoid damaging my new deck, but it really struck me how well they worked when I was shooting a video. I explained how each bracket works, and installed 16 brackets in under 4 minutes. I mounted 2 planters, 2 flower pots, 2 dog bowls, a hanging basket, citronella candle, ice bucket, bird feeder, wind chime and a shelf next to my grill." YouTube video. "Our biggest problem has been explaining how the brackets work. People don't get it when you tell them it just hooks behind the picket and rests on the front, but when you SHOW them, their jaws drop. I've seen it hundreds of times, that look of disbelief followed by, do that again! We have created a number of videos to show people how they work. They can figure out what to do with them after that. My favorite thing about them is my wife can move them whenever she wants."
The possibilities are limitless for these brackets, great for homeowners and renters alike. Because of the patented mounting system, these brackets can be mounted on the inside or outside of any deck. They fit any standard 2X2 wood, composite and vinyl picket.
The company has expanded to making more than just planter brackets, they now include bird feeder poles, round pot brackets and brackets to fit wrought iron. The decision to bring manufacturing back to the USA was based on wanting to bring opportunity back to the USA and having better control over the product line. With shorter lead times and in-house manufacturing, they plan to begin offering custom brackets in the near future. Right now the brackets fit any square picket or post from 1/2" up to 1 1/2". The custom brackets could fit up to 8" posts and be available in any of the current designs. These will be available online and shouldn't cost much more than the standard products. For more information on this company visit their website @ http://www.justrockit.com.