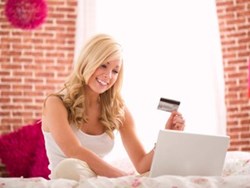 Miami, FL (PRWEB) November 26, 2012
TheBeautyPlace.com announces hairstyling products, curling irons, flat irons, makeup and skin care items from top brands Agadir Argan Oil, Bio Ionic, Bio Silk, CHI, Joico, Macadamia Natural Oil, Paul Brown Hawaii, Rusk, Sexy Hair Concepts, Supersmile Teeth Whitening Systems, TIGI, TIGI Cosmetics will be at deep discounted prices on Cyber Monday. Use code CYB15 to get an added 15% off any purchase of $150. Find the featured beauty deals in TheBeautyPlace.com's Gift Guide.
Agadir Argan Oil Hair Treatment drops from $40 to $19.95. The hair serum moisturizes dry hair and scalp with vitamins and antioxidants and relieves itchy scalp caused by dry skin and dandruff. It can be applied to protect hair from heat damage when using styling tools to curl hair or straighten hair. Agadir hair care products also use argan oil in their moisturizing shampoo, conditioner, moisture masque, volumizing mousse and hairspray for superior moisture and softness to fine, curly or thick hair.
Clarisonic Skin Cleansing System Mia drops from $119 to $94.99 with free shipping. The popular skin care tool uses a rotating brush head to decongest pores of dirt, oil, and makeup. In less than a week, acne suffers see an improvement in the smoothness of their skin and enlarged pores are reduced. The Clarisonic Mia comes with a charger and a facial cleanser.
Supersmile Pro Whitening System drops from $36.99 to $21.99. The kit includes a Whitening Accelerator with Calprox and a Whitening Toothpaste. In less than 30 days, the kit whitens teeth safely by removing coffee, tea, wine, and tobacco stains from tooth surfaces including veneers, caps, bonds, veneers, and dentures. Rebecca, lead beauty specialist at TheBeautyPlace.com said, "this kit maintains healthy gums and teeth while whitening. Saving everyone a trip to the dentist's chair, and the cost is well worth it."
Bio Ionic One Pass Flat Iron in 1'' and 1 1/2'' drops from $189 to $115.98. The hair straightener uses silicone speed strips that run parallel with the ceramic plates. The strips help to straighten hair in one pass and leave any hairstyle with a high gloss.
TheBeautyPlace.com is a leading online company of "top brands at affordable prices." From skin care to hair care and everything beauty, TheBeautyPlace.com strives to offer clients and prospective clients excellent customer service and fast shipping of beauty products right to their door.
Follow TheBeautyPlace.com:
On Pinterest: pinterest.com/thebeautyplace/
On Twitter: @TheBeautyPlace
On Facebook: Facebook.com/pages/TheBeautyPlacecom/125435188536?ref=ts
TheBeautyPlace.com Blog: blog.thebeautyplace.com
Jennifer Ramirez
TheBeautyPlace.com
877-392-8827