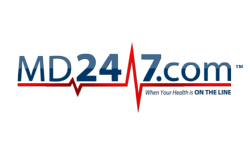 MD247 Reviews Type 1 Diabetes.
Tampa Florida (PRWEB) November 24, 2012
On November 24, 2012, MD247 sent out a notice to all telemedicine program members discussing the warning signs and complications of type 1 diabetes.
The more severe form of diabetes is insulin-dependent diabetes, or type 1 diabetes. Type 1 diabetes is also often called "juvenile" diabetes, because type 1 diabetes typically does not present in patients out of their teen years.
Type 1 diabetes forces the immune system to attack part of the pancreas. Scientists are unsure as to why this happens, but the immune system mistakenly sees the insulin producing cells in the pancreas as foreign invaders and subsequently attacks the cells. This attack is called an "autoimmune" disease.
Warning signs of type 1 diabetes include:

Extreme thirst.
Frequent urination.
Sudden vision changes.
Sugar in urine.
Fruity, sweet, or wine-like odor on breath.
Increased appetite.
Sudden weight loss.
Drowsiness, lethargy.
Heavy, labored breathing.
Stupor, unconsciousness.
The goal of the review is to serve both as an alert and a list for "checking" the potential conditions that can lend themselves to a diagnosis of diabetes. The MD247 content team hopes that the informational alert will serve as a reason for program members to chat with a doctor.
Largo Florida based MD247.COM (MD247; MD/247; MD 247; M.D.247; MD-247) provides an affordable telemedicine supplement to existing healthcare services. MD247.COM telemedicine program members have unlimited telephone access to a nationwide medical support team, all with just a single phone call to the MD247.COM telemedicine Chat With a Doctor/Talk to a Nurse Hotline. MD247.COM has a virtual platoon of registered nurses; board certified physicians and a support staff available to members for all non-emergency situations. More information about MD247.COM is available online at http://www.md247.com.