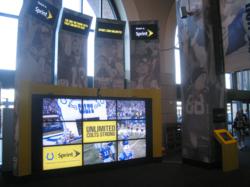 "Touch screen technologies offer unique ways to meet the various goals and needs of our customers, and of every single fan, or up to tens of thousands of fans, at a single event."
Prior Lake, MN (PRWEB) November 26, 2012
Touchdown, touch pass and touch screen. These days all three phases are synonymous with sports. As fan involvement becomes increasingly more important from a fundraising, marketing and sponsorship perspective, touch screen technology has exploded onto the athletics scene.
By nature, fans want to be more involved than traditional sports environments have allowed. Fans want to voice their opinion; they want to be directly involved. Thus, blogs have become all the rage. When attending a live sporting event however a fan's only opportunity to provide input is by yelling for their favorite team. Q'd Up Interactive is now providing sporting venues at all levels with real-time interactive tools to heighten the fan's experience. Touch screen technologies and smartphone integration enliven the environment and empower the fans. These tools also enable sports organizations to capture valuable fan data that can be leveraged to enrich future dialogue with fans.
Let's explore four specific case studies where sports administrators are achieving their desired results through the use of interactive tools:

In pro arena concourses as pre/post game fan interactivity experiences and advergames.
In vast sporting venues as a means of creatively connecting fans to the action
In University Hall of Fame venues to creatively capture fan interest and engage boosters.
In locker room settings to enable coaches to more accurately break down film for players.
Fan Interaction Touch screens
At the college and pro level, sports marketing and sports sponsorships are a multi-billion dollar business. Sponsors of sporting events look to new technologies to sell more products and gather valuable consumer insight. One such example of a unique touch screen application can be found at the Sprint Experience within Lucas Oil Stadium in Indianapolis.
Sprint has a five year sponsorship agreement as one of six major sponsors at the $625 million Lucas Oil Stadium which has a projected annual attendance of 1.5 million event attendees and sports fans. The sponsorship provides an expansive branding opportunity within the entire eastern concourse of the stadium. Sprint has created an experience that immerses users in its technology and brand in innovative ways.
Beyond the screens that showcase Sprint's new handheld devices and entertainment choices, it unveiled a 3D interactive football simulation game in which fans become the quarterback and complete passes in a virtual Colts game. Moreover, as the fan completes the interactive experience, they have the ability to step to a kiosk and, using the touch screen technology, request that a video clip of their performance immediately be sent to their own handheld device, via SMS messaging. This free service offered by Sprint enables it to leverage advanced touch screen technology to enhance their brand position by giving "consumers what they want, when they want it". Additionally, Sprint has the ability to gather the consumer data in order to analyze the fan base and target market its products at a later date.
Fig 1 Displays Sprint's interactive advergame providing pre-game fan excitement leveraging multiple marketing disciplines.
Touch screens have the unique ability to conduct data capture. Fan input is gathered, compiled, analyzed and acted upon to enrich the fan experience for future users. Additionally, sports marketing groups can access this data to learn more about their fans and thus tailor upcoming promotions more effectively. Sponsors can utilize their space within a sporting venue to gather valuable consumer data via touch screens.
In even more expansive sports venues, such as Infineon Raceway's 720 acre sporting complex, NASCAR is testing various interactive technologies designed to enhance the fan experience. As part of it's new Fan and Media Engagement Center, NASCAR is hoping to integrate more cutting-edge technology to better inform their sport. Utilizing interactive technologies will help NASCAR connect with the media and the fans more effectively. One such example of cutting-edge technology being used to draw fans closer to the drivers is the innovative use of smartphone technologies. CrowdOptic, a focused-based services group from San Francisco, creates "fan clusters" comprised of fans all focusing their smartphone cameras on the same object, at the same time. CrowdOptic provides a platform for these clustered fans to engage in real-time discussions where they can share comments and photos. Fans at opposite ends of the track can view real-time race photos sourced from other fan vantage points.
The act of sharing real-time comments and video content enhances the fan experience and adds yet another benefit to attending the race live. Sponsors such as Yahoo are also testing this technology to potentially build a sports platform enabling fans at home to custom-select photos and videos uploaded directly from fans at the event.
Hall of Fame Displays
A common challenge at many institutions today is how to appropriately honor achievements from past athletes while maximizing space and maintaining its relevance. Traditionally, pictures and plaques from previous eras are hung on walls and were stored in trophy cases. As museums have found, traditional exhibits of this sort can be boring and tired. Since this is contrary to the desired environment on a campus, and fearing that aging facilities could be perceived in this way, collegiate administrators have turned to touch screen technology to energize these critical areas within their facilities.
One such example of where touch screen technology has revitalized a Hall of Fame setting is at LaSalle University in Philadelphia. The University was simply running out of wall space to display additional plaques to honor new hall of Fame inductees. Today's students are numb to exhibits that do not incorporate video in some manner. This, coupled with the increase of impressive video clips that are available on recent inductees, provides a perfect match in the touch screen world.
LaSalle, for instance, sought the expertise of Quattro Graphics, a Dallas-based environmental graphics design firm, to design and deliver a powerful blend of traditional plaques with the modern touch screen approach. Visitors to the Hayman Center are now drawn to a 46" video screen featuring the dynamic use of the LaSalle logo and montage of high-energy sporting clips featuring Explorer achievements. Visitors utilize the touch screen technology to search for an athlete, team, coach or administrator. Here, they can read a narrative about the person and review his / her statistical performance. Then, by the magic of touch, visitors can witness that athlete in action as captured in archive black and white, as well as color, game film.
LaSalle University Assistant Director of Athletics Chris Kane clearly notices the fan enthusiasm generated by the touch screen-drive Hall of Fame video display.
"The Hall of Fame touch screen display has received rave, let me say RAVE reviews". He said. People are just in love with it and we are very proud to be able to show it off. "
The resulting Hall of Fame wall features esthetically pleasing touch screen integrations and creates a dynamic experience that encourages students, visitors and donors to spend more time within the Hall area.
At Brigham Young University (BYU), 13 video kiosks are spaced throughout its three story athletics museum. Each kiosk takes guests on an interactive trip back in time to relive memorable BYU events and meet former BYU athletes. The easy-to-use touch screen system makes navigation simple for all ages. Guests can browse through the many touch screens options such as text, trivia, photos and video content.
On the main campus for the University of Kansas, the Hall of Athletics presents three touch screens kiosks at which one can peruse the menu of options to find an athlete. Each entry contains roster years, accolades, photos and video clips.
At Cornell University, the Hall of Fame room sports a high-tech touch screen display featuring biographies and photos of every Hall of Famer. A well-produced graphic display of memorabilia and photography of legendary athletes serves as the backdrop for meetings and celebrations in the Hall of Fame room.
Locker room touch screens
Locker rooms across the country are also utilizing the benefits of touch screen technology. Coaches can more effectively break down game film for players moments before they step onto the court. A state-of-the-art, software-driven touch screen can help coaches deliver pinpoint accuracy to the point they are trying to convey. Combining touch screen technology with cutting-edge graphics in the locker room can also have an immediate impact on image enhancement as well.
In a collegiate environment an athletics department can accomplish three major goals, namely;

Have a stunning appeal to visiting recruits
Immediately increase the level of pride, and performance, for existing athletes and
Properly honor the tradition formed by previous athletes and donors.
The perception is that touch screen technology must be outrageously high-priced; however, given the rapidly declining prices of LCD touch screens, the exact opposite is true. Recently Brad McGowan, assistant AD at Lamar University said "he was pleasantly surprised by the manageable costs".
"We are constantly getting compliments on our athletics graphics at Lamar, he said. " A project of this nature was very affordable for a smaller institution like ours".
More than ever before, there is mega- competition for the sporting fan's loyalty and the dollars that follow. This leads toward offering the fans empowerment with self-service applications that involve touch screen technology. A handful of institutions have begun to offer touch screen kiosks in off-campus locations. Functioning like ATMs, these kiosks offer fans the opportunity to buy tickets, sign up for loyalty programs, and check game scores. They offer the ability to sell advertising as well. Most importantly they offer the fan the convenience of self-service which boosts program loyalty and drives ticket sales.
These and countless other advanced touch screen features enable pro sport venues, athletic departments and event promoters to truly maximize their returns on every ticket for every event. A Sprint representative offered the following summation:
"Touch screen technologies offer unique ways to meet the various goals and needs of our customers, and of every single fan, or up to tens of thousands of fans, at a single event."
Phil Quattrocchi is presently the SVP-Strategic Partnerships for GreenMark Sports and is a freelance contributor, based in Minneapolis. Contact him at: PhilQuattrocchi@Gmail.com