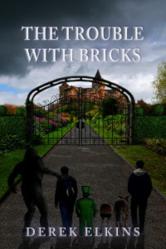 Nashville, TN;New York, NY;Milwaukee-Waukesha, WI;Chicago, IL;Los Angeles-Long Beach, CA (PRWEB) November 24, 2012
Bard and Book, an innovate creation for authors, publishers and readers by Athanatos Christian Ministries (ACM), is proud to announce a new 2012 featured work of Bard and Book author Derek Elkins. Elkins is the first place winner of the Athanatos Christian Ministry 2012 Novel Contest for his book "Life Unworthy of Life".
The Trouble with Bricks is a modern-day parody that tells of real-life lessons. Reminiscent of the Alice in Wonderland, The Wizard of Oz and Monty Python, Elkins' story takes a humorous look at a fictitious family consisting of Suzie Phipps and her brother Cleotus who find themselves in a world of trouble. Actually, they're in an alternate-reality, Alice-in-Wonderland-on-steroids world of trouble.
The Trouble with Bricks is published by Bard and Book Publishing and is available in several ebook reading formats. For paying members of the Bard and Book community, there is a 100% Off Coupon that they can redeem at Smashwords. It is also available in Kindle edition on Amazon.
Derek Elkins has authored several other books including "Bedlam's Door", "Three Conversations", "Amish Love Story", and "Layover". You can read more about these books or find out how to purchase or download by visiting the Bard and Book online community.
About ACM:
Athanatos Christian Ministries, an apologetics ministry with an emphasis on defending the Faith through the arts and literature since its founding in 2008. ACM's purpose is to apply the Christian world view in creative contexts that range from Christian apologetics to education to literature and the arts and anything else it can imagine to edify the church. ACM has a significant emphasis on the arts and literature because it perceives that the culture has extraordinary influence on faith formation; usually a negative influence. For this reason ACM encourages Christians to participate in the culture in meaningful ways with works of art that exhibit excellence.