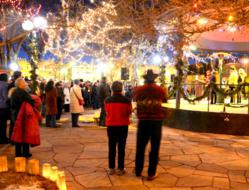 Santa Fe, NM (PRWEB) November 24, 2012
The Hospice Center hosts its 22nd annual "Light Up a Life" event on the Santa Fe Plaza (located at the corner of East Palace Avenue and Lincoln Ave. in downtown Santa Fe, NM) on New Year's Eve. Hundreds of farolitos are dedicated to celebrate the lives of loved ones past and present. Proceeds from the sale of farolitos provide hospice services for those in need. All are welcome. Free hot chocolate and bizcochitos will be served. A brief ceremony is scheduled for 5:30 – 6 pm. This event is featured on the SantaFe.com event calendar.
Farolitos can be purchased in advance by calling 505-988-2211 or at the event. Bring a photo of your loved one to personalize your farolito. The Hospice Center invites locals and visitors to come enjoy this long standing celebration and it hopes to see you there!
About The Hospice Center:
The Hospice Center in Santa Fe and Northwest New Mexico Hospice in Farmington are non-profit programs designed to address the special needs of those who are terminally ill. Providing care for those at the end of life, when curative treatment is no longer effective, hospice focuses on the quality of life.
Volunteers are the heart of hospice. Special events, like Light Up a Life, help raise funds necessary to deliver services to all in need without regard of their ability to pay. To volunteer in Santa Fe please call Mary Ann Andrews at (505) 988-2211, in Farmington please call Lisa Bailey at (505) 327-0301.
For more information about Hospice Services in Santa Fe call (505) 988-2211 or in Farmington call (505)327-0301.
About SantaFe.com:
SantaFe.com provides locals and visitors to Santa Fe alike the most current interactive platform for events, music, arts, business, dining and lifestyle. SantaFe.com is a division of Hutton Broadcasting, located at 2502 C. Camino Entrada, Santa Fe, NM 87507
Contact Information:
Scott Hutton
SantaFe.com / Hutton Broadcasting
http://www.santafe.com
(505) 471-1067 (Media inquiries only, please)