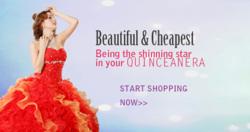 (PRWEB) November 25, 2012
With the holiday shopping season's coming, DressforQuinces.com has announced its Quinceanera Dress Promotion from Nov. 22 to Dec. 31, 2012. All the online clients for its Quinceanera dresses can get a discount, up to 60% off.
The promotion covers all categories of Quinceanera dresses on the website, featuring unbelievable deals for any buyer. Compared with the traditional brands in a mall, their prices are only 1/3 of the same quality brands', because their on-line costs are much lower than others' rental expenses. This is a great sale not to be missed and there is no excuse not to go for those who need a dress for quince.
On the website of DressforQuinces.com, customers can find hundreds of Quinceanera dresses in different styles and colors. The team of highly skilled craftsmen can make each pretty Quinceanera dress fashionable while still traditional. They also offer vibrant color options to allow each girl to be creative and playful with the planning for their big celebration.
"Our mission is to provide rich Quinceanera dresses for costumers as well as fast delivery, especially for the upcoming holiday shopping session." Said, Morry Lee, CEO of FashionOS.com.
In addition, DressforQuinces.com released its Quinceanera Dresses 2013 Series, which mainly focus on cheap Quinceanera dresses. At this holiday season, the series will be a business stimulator for the company.
About DressforQuinces.com
Founded in 2008, DressforQuinces.com is a leading Quinceanera dresses online company. DressforQuinces.com accepts customer's own design, and OEM service is available. Most customers are from the US, Europe, and Australia. DressforQuinces.com is open 24/7, and the best way to avoid crowded malls and parking lots.