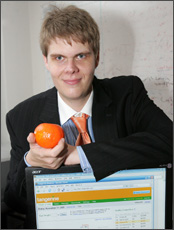 Washington, D.C. (PRWEB) November 25, 2012
Aaron Day, the CEO of The Atlas Society, will be speaking at the 2013 New Hampshire Liberty Forum. The libertarian forum will be held February 21-24, 2013 at the Crowne Plaza, in Nashua, New Hampshire.
Now in its 6th year, Liberty Forum is New Hampshire's premier liberty-oriented conference. It has developed a reputation for drawing together people of diverse backgrounds from across the Northeast and beyond for the purpose of discussing strategies to reduce government interference in our lives and build a better society through business, the arts, volunteer work, etc.
It is also an opportunity to introduce attendees to New Hampshire and give them a taste of the many benefits of socializing, networking, and organizing with a large group of like-minded people!
Other speakers include:
--Author Tom Woods, senior fellow of the Ludwig von Mises Institute
--Science fiction novelist Cory Doctorow
--Declan McCullagh, chief political correspondent for CNET.com
--Ben Stone of http://www.badquaker.com
--Jack Spirko, best known for his work as the host of "The Survival Podcast"
--Libertarian activist Ken V. Krawchuk
About Aaron Day:
Aaron Day has eleven years of CEO and startup experience and personal domain expertise. Day is chairman and CEO of Tangerine Wellness and was Entrepreneur-in-Residence at Industry Ventures, a technology-focused venture capital firm. He served from 1995 to 2001 as Chairman/Chief Executive Officer of Iconomy, an e-commerce ASP (acquired), where he was responsible for Iconomy's strategy and operations. Prior to Iconomy, Mr. Day helped implement a state of the art software system for the largest privately held managing general underwriter, Stop Loss International (acquired by UnitedHealth Group). Day is currently a member of the advisory committee for the X-Prize Foundation. The Boston Business Journal selected Day in 2004 as one of their 40 Under 40 leading business leaders and innovators. Day studied mathematics at Duke University and biology at Harvard UES.
About The Atlas Society:
The Atlas Society promotes open Objectivism: the philosophy of reason, achievement, individualism, and freedom. Our scholars work to further develop this philosophy born in the mid-twentieth century. We present the empowering principles of Objectivism to a global audience, and offer those principles as a rational and moral alternative in the marketplace of philosophical ideas.
We do this through a variety of programs, which include:
-Original scholarly research which further develops the philosophy.
-Academic training of young intellectuals.
-Publishing and commissioning influential books and monographs.
-Our rich multi-media website
-Original commentary and op-eds published in mainstream media.
-Speeches and media appearances.
Visit The Atlas Society's web resource on Ayn Rand's Atlas Shrugged.