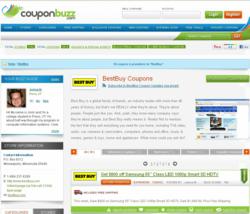 The Best Buy Cyber Monday offer for 25% off the Samsung Galaxy Tablet is an extremely unusual price drop for such a popular gadget…
Houston, TX (PRWEB) November 25, 2012
Cyber-Monday is almost here, and eager shoppers are busy drooling over the offers that will launch when it finally arrives. One of the most toothsome offers currently attracting consumer attention across the web is the Best Buy Cyber Monday coupon for $100 dollars of the Samsung Galaxy Tablet 2 10.1. The coupon is featured in the unique Best Buy coupon section of CouponBuzz.com. The special offer's dramatic price reduction for 25% off the original retail pricing on the Galaxy Tablet is enough to make anyone glad they held out strong over Black Friday and waited for Cyber Monday to roll around.
"One of the most interesting aspects of running a website devoted to hosting the best coupons and coupon codes from across the internet is the opportunity to see the deals first," said Justin Bowen, founder of CouponBuzz.com. "You really get a feel for what items are popular and what constitutes a good deal, versus a promotion that will most likely come around again in a few months. The Best Buy Cyber Monday offer for 25% off the Samsung Galaxy Tablet is an extremely unusual price drop for such a popular gadget, and its equal is unlikely to be seen again until this time next year."
The Samsung Galaxy Tablet 2 10.1 with 16 GB of memory is just $299.99 after the Best Buy Cyber Monday discount is applied. It features the much vaunted Android 4.0 Ice Cream Sandwich operating system, and an impressive 11 hours of extended battery life. Its 10.1" touch-screen display has 1280 x 800 resolution for perfect clarity, whether streaming video and gaming. And speaking of streaming video, Android tablets like the Samsung Galaxy are Flash-enabled, so all of the user's favorite websites and video sources will still work on their latest techno-gadget. Another important distinction from Apple products is the USB 3.0 port, which enables easy data transfer from personal computers to the Galaxy Tablet, which is often a major selling point for users who have attempted to operate other tablets.
Online shoppers interested in scoring a drool-worthy Samsung Galaxy Tablet 2 10.1 can find full specifications and a link to the Best Buy Cyber Monday offer for $100 dollars off at CouponBuzz.com. Specifically, in their special section dedicated to hosting Best Buy coupons and special offers, located here http://couponbuzz.com/bestbuy-coupons.html.