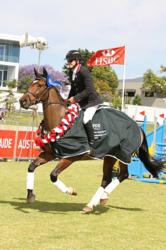 (PRWEB UK) 25 November 2012
By Anna Sharpley
New South Wales professional Craig Barrett, leader after the Cross Country in Adelaide (AUS), produced a classy performance with Mr and Mrs Keith Osborne's Sandhills Brillaire in today's final Jumping phase to clinch the title at the second leg of the HSBC FEI Classics™ 2012/2013.
This was Craig's first 4* event, for which he earned the HSBC Training Bursary, which is awarded at every leg of this prestigious series to the highest placed rider never to have previously completed a 4* event. It is the first time that the winner of the HSBC Training Bursary has been top of the line-up.
The mare Sandhills Brillaire and its parents were also bred and produced by the Barretts. Craig bred the sire, Staccato by Salute out of a Thoroughbred mare by King of Babylon, and Craig's wife, Prue Barrett, Australia's Eventing coach, bred the dam that is by Galveston. Twenty-year-old Staccato, a former number one WBFSH/FEI Eventing Stallion has now sired two Adelaide 4* winners, including last year's winner Panamera.
"I don't know if that has ever been done before", commented Craig. "I have a paddock full of them; I'm not sure if they are as good as Brillaire, but we have to look at purpose breeding horses."
Barrett is now second in the HSBC FEI Classics™ 2012/2013 standings behind New Zealand's Andrew Nicholson. "I think it is a fantastic initiative from HSBC and the FEI to do this. It really encourages young riders to get to the level they need to get to. I've had a couple of goes here, but this is my first completion and I'm very happy to be in the winner's seat and take home the first-timers award," declared Craig.
Barrett and the 10-year-old Sandhills Brillaire were fifth after the Dressage and just kept improving from there. They produced an almost perfect Cross Country run over Wayne Copping's testing track, with the terrain in the Parklands adding to the difficulty.
The grandstand was full of enthusiastic and knowledgeable spectators for today's Jumping test, with the crowds keen to witness first-hand the battle for HSBC FEI Classics™ glory. The 4* field was reduced by one when John Twomey's ride Highly Recommended did not make it past the Sunday morning veterinary inspection, which was disappointing for this popular combination. But there was still plenty of excitement to come in the head-to-head between Craig Barrett and Natalie Blundell with her talented Thoroughbred, Algebra, so called because as a young horse he was difficult to work out.
Barrett had two fences in hand, but that advantage can disappear only too easily during the final Jumping phase. Course Designer John Vallance set a strong track, with the tall HSBC planks the last fence after a seven-stride distance from the penultimate oxer. The planks claimed all but one combination. Blundell and Algebra gave Barrett more breathing room with two down. They were however the only combination to come home under the time allowed.
One of the toughest Eventing tests is being able to control your horse's and your own nerves. With National Jumping Coach Rod Brown to help with the warm-up, Barrett and Sandhills Brillaire produced a perfect round, until the HSBC planks. "I got to a sweet spot and just took my leg off her," declared the always self-effacing Barrett. The planks were down, but it wasn't enough to remove Barrett and the mare from the top spot to claim victory by a good margin from Blundell, and with Murray Lamperd and Under The Clocks in third.
"She was super, an absolute standout. She has only just turned 10 and I think she really stepped up and looked to go to the next level this week."
Final Results at Australian International 3 Day Event (AUS):
1 Craig Barrett/Sandhills Brillaire (AUS) 51.0 + 0.8 + 7 = 58.8
2 Natalie Blundell /Algebra (AUS) 54.2 + 5.6 +8 = 67.8
3 Murray Lamperd/Under The Clocks (AUS) 50.7 + 34.8 +16 = 101.5
4 Jessica Manson/Legal Star (AUS) 62.2 + 44.4 +15 = 121.6
5 Keira Byrnes/Fox Hill (AUS) 67.5 + 54.8 + 40 = 162.3
6 Crystal Conning/Marcus Aurelius (AUS) 61.2 + 80.8 + 34 = 176.0
7 Andrew Cooper/Guest of Honour (AUS) 62.0 + 95 +28 = 185.0
Full results on http://www.australian3de.com.au
The HSBC FEI Classics™ 2012/2013 Standings will be available at http://www.fei.org/hsbc/hsbc-fei-classics.
Download the HSBC FEI Classics™ 2012/2013 press kit: http://www.feipresskits.org/
HSBC's Training Bursary
At the centre of HSBC's sponsorship is a commitment to the development of the sport of Eventing at every level. As part of its support of the HSBC FEI Classics™, HSBC has introduced a Training Bursary. This is a unique award which is presented to the highest placed rider never to have previously completed a 4-star level event. The winning rider receives a training voucher to the value of US $1,000 to be spent on sessions with a trainer of the athlete's choice approved by the FEI and National Federation.
HSBC FEI Classics™ 2012/2013 calendar
1 Les Etoiles de Pau CCI 4* (FRA) - 24-28 October 2012
2 Australian International 3 Day Event (AUS) - 22-25 November 2012
3 Rolex Kentucky Three-Day Event (USA) - 25-28 April 2013
4 Mitsubishi Motors Badminton Horse Trials (GBR) - 3-6 May 2013
5 Luhmühlen CCI 4* presented by E.ON (GER) - 13-16 June 2013
6 Land Rover Burghley Horse Trials (GBR) - 5-8 September 2013