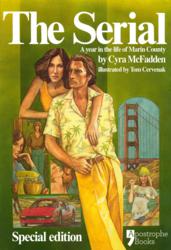 To mark 35 years since The Serial first satirized the silliness of 1970s California, the bestselling novel is back, with new artwork, bonus features, interviews and reviews from the time, plus a new preface by author Cyra McFadden.
(PRWEB UK) 29 November 2012
The Serial: A Year in the Life of Marin County became a global bestseller in the Seventies, hilariously skewering a self-obsessed age of psycho-babble, meditation, Zen jogging, pet psychiatry – and bucket-loads of organic granola.
Described by Newsweek as "one of the most delicious acts of cultural sabotage since Mark Twain" and author Lisa Alther as "the funniest book ever written", it mercilessly satirises the inhabitants of Marin County, California in counter-culture-gripped 1976.
Now, to mark 35 years since it was first published, the novel is going on sale in e-book form for the first time, with author Cyra McFadden and illustrator Tom Cervenak both contributing new words and art to this special edition.
There are also bonus features, reviews and an interview with Cyra McFadden from the time, plus a look back at how the inhabitants of the San Francisco community reacted as their area – and habits – became the focus of world attention.
Published by Apostrophe Books, The Serial: A Year in the Life of Marin County will be available to readers of Amazon Kindle, Apple iBooks, Nook, Kobo and other e-readers on Monday, November 26, priced US $5.99 / UK £3.75 (RRP).
The satire documents Kate and Harvey Holroyd's attempts to leave their 'straight' lives behind and join their fashionable neighbours in the fine art of staying 'hip and loose'. In 52 week-by-week instalments, we see them try scream therapy, consciousness-raising sessions and a disastrous foray into having an open marriage.
Author Cyra McFadden said: "I'm delighted that The Serial is coming out as an e-book but don't expect Marin to be as happy that it's back. Am I going to be scraping dried egg off the front of my house again, I wonder?"
Apostrophe Books founder and bestselling writer Martyn Forrester said: "I was thrilled when Cyra McFadden agreed to let us republish The Serial. It's an iconic book, one of my all-time favourites. Tom Cervenak creating a new piece of artwork just for this edition was the icing on the cake."
For more information on the e-book or for images please contact Louise Downham at Apostrophe Books on +44(0)845 519 2304 or louise(at)apostrophebooks(dot)com
http://www.apostrophebooks.com
Notes to editors
The Serial: A Year in the Life of Marin County is by Cyra McFadden and illustrated by Tom Cervenak. (ISBN: 978-1-908556-43-1). Genre: Fiction - Humorous. RRP: UK £3.75 / US $5.99 / €4.65.
It is available for Kindle, Nook, Kobo, iBooks and many other e-readers.
ApostropheBooks.com was launched in February 2012, and has since published 25 books, from award-winning fiction to bestselling factual titles. Apostrophe Books is a new e-publishing company that combines the high standards of old media with the cutting-edge technology of new media. Books that have been in print before are given a digital future, alongside new titles from some of the world's best writers. And all under a deal unprecedented in publishing, where income is split 50/50 with the authors.
Visit http://www.apostrophebooks.com for more information.