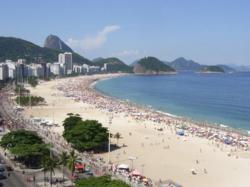 ExcitingRio is a great website that provides useful on-the-ground knowledge for travelers to Rio de Janeiro.
Rio de Janeiro, RJ (PRWEB) November 27, 2012
Christmas, New Year's, and Carnaval celebrations are shaping up to be an amazing time in Rio de Janeiro, however, those planning to visit "The Marvelous City" would do best to plan.
During last years New Year's Eve celebrations the city hosted 2 million people on the beach marking the turn into a new year, and for 2012 the city is expecting just as many if not more people during the 2012 festivities.
Brazil by itself is making major headlines, and one of the places where that attention is taking place is in Rio de Janeiro. The city has become a major draw of attention internationally, and those seeking to ensure their reservations in the city during these stated times of festivities should make their reservations as soon as they can.
The website, "ExcitingRio" provides a wealth of knowledge for travelers through its blog, as well as with many of the other resources that it has. For travelers, this is a place that should not missed, especially if they are planning to visit Rio de Janeiro soon.