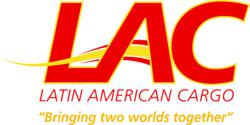 Linking services like shipping and business development together was a logical step for a company seeking to do the most they can for their clients.
Staten Island, NY (PRWEB) November 26, 2012
As economies grow and companies compete, innovators can pull away from the pack and develop techniques that bring about huge waves of support from their clients and investors. Latin American Cargo (LAC), a company that is heavily invested in shipping to Latin America and other parts of the world by boat, plane, and freighting truck, has seen a new wave of support and demand for their latest innovation. A form of the technique, called service linkage, has led to the creation of their Business Development branch, aimed to help companies already using LAC for shipping services do even better. This rise in demand has come anew as the holiday season is getting close at hand, and has exceeded the expectations of those working in LAC.
With less than a year having passed since the introduction of this new service, the resounding approval from those who have experienced its usefulness was shocking. Latin American Cargo would have considered their new efforts worth continuing if even 5% of their business clients opted for their development services. The results were far more evident, with over 10% of LAC clients opting to use these new services. Client satisfaction reports filed so far have also been extremely positive, with close to 90% of clients being very satisfied with the services they received.
Shipping to Latin America can be a difficult prospect, with barriers in knowledge, language, culture, and location needing to be overcome before a company's potential could be reached. In order to help companies hasten that process, Latin American Cargo has been using their Business Development team to help clients already shipping with them overcome these obstacles quickly and efficiently.
The technique of service linkage, when used effectively, allows clients to receive more services than traditionally offered by similar companies. In this case, simply shipping to Latin America is enough for most companies, but for LAC it became an opportunity to use their expertise in a new and helpful way. Deeply involved in the Latin American economy as a frequent freighting company, LAC knows many of the cities and locations extremely well. Adding in some knowledge of language and local business sense has given LAC an edge may companies cannot have without years of experience behind them.
LAC clients, by using the expertise of their shipping partner, have skipped the trial and error phase of becoming involved in a new country for business. Rather than being less efficient in the short run, these companies have a stronger start than the others that are trying to build their business without experience or the right partners. Service linkage like this shows just how useful thinking outside of the box can be, considering that so many shipping companies are simply taking their role as given and not pushing the boundaries like Latin American Cargo.
About Latin American Cargo
Latin American Cargo (LAC) is a shipping and freighting company specializing in shipments going to and from different areas in Latin America. To get an instant quote on Latin American Cargo shipping prices, click here. Recently gaining NVOCC status, LAC has expanded their abilities for shipping through different countries. They are experienced with air, sea and ground transport. Their Mexfreight division, short for Mexico Freight, handles almost exclusively the transport to and from Mexico and acts primarily as a road transportation service. LAC has recently launched an informative video series and has introduced a business consulting branch designed to help clients develop strategic goals and execute them.