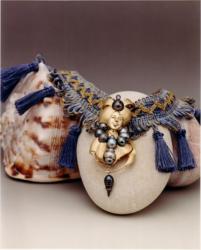 "Amatyzt wanted to help people give something truly exquisite this Christmas. So we decided to offer a deal on items that would otherwise never go on sale!"
Houston, TX (PRWEB) November 26, 2012
Amatyzt.com is excited to offer its first ever Cyber Monday deals on high end jewelry and watches! The website features high end jewelry designers from all over the world, with a special emphasis on one of a kind and limited edition jewelry. "We believe that jewelry and watches are some of the most personal items a person owns." explains company president, Alexa Ronngren, "Therefore, we want to make sure that each designer on Amatyzt.com has a unique and interesting vision. When we hear a customer say, 'my bracelet is even more special because I've never seen anything like it," we know we did our jobs well!" On Cyber Monday, the company has decided to give its best deal on luxury jewelry and high end watches. For every $1000 a customer spends on the site, Amatyzt is offering a $100 off, up to $1000 in discounts! Customers just need to use the coupon code BF12-LUX during checkout to get the deal. According to Alexa Ronngren, "Amatyzt wanted to help people give something truly exquisite this Christmas. So we decided to offer a deal on items that would otherwise never go on sale!"
The high end jewelry on the site includes the winner of the Tahitian Pearl Trophy award, Le Noble Des Dunes by Lebanese jewelry designer Patrick Jerer. This extraordinary piece of jewelry can be used as a pendant or a brooch. Created In 18K Gold, this one-of-a-kind beauty is enhanced with Tahitian baroque Pearls. The noble`s a young prince with an angelic face, wearing a golden scarf on his head crowned with a Tahitian baroque pearl. Beautiful Tahitian baroque pearls also surround his neck in a dressing typical of royalty. Le Noble Des Dunes retails for $14,500. But on Cyber Monday, a smart jewelry collector could obtain this incredible piece for $13,500!
Another steal on Amatyzt.com are the Stefan Johansson Vaxjo watches. Professional race car driver and watch designer Stefan Johansson is one of the legends of of Formula One (F1), Indycar, and LeMans style sports car racing. His lifelong focus on timing and precision brings a unique perspective and a new standard of accuracy and style to the art of horology with his limited edition, luxury timepieces. His Latest line, the Mark VIII watches, are limited editions of 250 or (much) less pieces. These watches feature a large yet wearable 47 mm case in either stainless steel or black PVD coated finish, water resistance up to 3ATM, and an exhibition glass back that reveals the Swiss-made watch's Valjoux 7750 or 7751 movement. A diamond bezel is available as an add-on. Each watch bears the Vãxjö crest honoring Johansson's Swedish birthplace, and is presented in an oak self-winding box. But the most distinguishing feature is that these watches are worn by Johansson himself or fellow professional drivers during real racing events to test their durability and performance.
As the newest authorized retailer for these exceptional watches, Amatyzt.com and Stefan Johansson Vaxjo has not even made an official announcement of their partnership yet. However, the company decided to extend their special Cyber Monday treat, Amatyzt.com is giving buyers a rare opportunity to save money on these gorgeous watches! As a luxury product, these watches do not go on sale, but Amatyzt customers can go around that by using the site wide luxury discount to get up to $1000 off! Both Amatyzt and Stefan Johansson Vaxjo are featured in the current issue of Life & Leisure Magazine (page 66-67).
ABOUT AMATYZT AND ITS DESIGNERS
Amatyzt.com is an online jewelry boutique that specializes in unique designer jewelry by notable designers from all over the world. Founder Alexa Ronngren came up with the idea after meeting an award winning jewelry designer who despite having talent and accolades did not have the marketing knowledge to promote her brand. Coming from a family with four generations in the gemstone business, Alexa has been able to curate a special collection of beautiful, high quality jewelry, watches and accessories on Amatyzt.com. Some designers are international award winners, others are well respected in their home market, and a few are emerging stars just starting to get discovered. The site's handpicked international array of designers includes Maria Moreno from Argentina, Mikky Eger from Milan, Atelier Orafo from Florence, Patrick Jerer from Beirut, Posse & Rake and Perihan Tufan from Australia, Gwel from Barcelona, Exceptio Cufflinks from London, and Stefan Johansson Vaxjo. Despite coming from different corners of the world, they all share a passion for creating interesting, gorgeous, and uncommon jewelry.