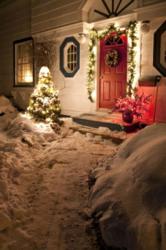 You may worry about the number of days left to prepare for the Holidays, so do thieves looking for homes where they can do their own Christmas shopping.
Regina, Saskatchewan (PRWEB) November 26, 2012
SecurTek, North America's security monitoring expert, reminds property owners to stay alert during the period leading up to Christmas. Regular routine disruptions are more frequent as winter sets in, and Christmas preparedness starts occupying the mind of consumers... as well as thieves.
Smart Christmas shopping starts at home and doesn't cost much. Reduce risks of becoming a victim of residential crime by following these simple tips to a Christmas with fewer surprises you could do without:
1-If you have an alarm system, make using it a priority. It is easy to forget that your alarm system provides protection only as long as you allow it to protect you. Many people who buy alarm systems tend to become less diligent in setting it when leaving their home for last minute errands. This provides thieves extra entry opportunities. You may worry about the number of days left to prepare for the Holidays, so do thieves looking for homes where they can do their own Christmas shopping.
2-Replace your deteriorated alarm system signage. Signage lends a demonstrated crime deterrence element to your property's security integrity. Your security system provider may have given you warning signs on a stake and decals for your home's windows and doors years ago. These may be chipped, partially ripped or faded by now. You can bet criminals will make a direct link between the state of those decals and that of your alarm system. Make an extra stop by your local security service supplier to get new signs ahead of Christmas.
3-Restrict outside views into your home. Christmas trees help impart your home a great Holiday atmosphere. To criminals, they are targets indicating where the loot may be found upon entry. If your glowing tree is the first thing anyone walking or driving by can see through your front window at night, you would be well advised to close your blinds, or at least partially restrict some of the views into potentially high yield areas inside your home. Owners of openly visible large flat screen TVs might benefit from taking the same precaution. These too also have a habit of luring unwanted visitors inside.
4-Well lit homes and pathways help keep thieves away. When your shopping list becomes your To-Do list, it's easy to forget how effective exterior lighting is at extending home security protection range -- especially when light is reflected on ground snow cover. If you live in a detached single-family dwelling in a residential neighbourhood, a timed or switchable light at the front and back of your home may be all you need. Larger yards and unprotected grade level windows may warrant the use of additional motion-activated lighting units. Keep in mind that the more visible the setting around your property is to your neighbours, the less likely criminals will want to hang around long enough to adequately assess break-and-enter feasibility and eventual benefits therefrom.
5-Christmas Spirit among neighbours builds security. Members of neighbouring households that communicate regularly with one another are more likely to lookout for their collective safety as stewards of broader protective unit. People who walk their dog by your home at regular hours and pedestrians on their way to work also keep watch, as a matter of self-protection. Shovelling sidewalks and paths around your home helps make friends of strangers. One of the most noticeable effects of winter on neighbourhoods is a reduction in the time neighbours spend outside, engaging in conversation with one another. Studies have shown that the safest neighbourhoods are those where both residents and visitors accept a certain level of responsibility for public safety. Making the extra effort now can make a difference this Christmas.
As you cross out items on your Christmas list, think about how following these simple suggestions can help ensure you and yours make it safely through the Holiday Season. If you are thinking about buying an alarm system, getting started is easy. Smart home security does help keep Christmas merry.
About SecurTek:
SecurTek is a leading provider of monitoring solutions and event related information services through an extensive dealer network and strategic partnerships, for 70,000 customers across Canada. A subsidiary of SaskTel Telecommunications, SecurTek earned the Five Diamond Certification for providing superior monitoring service in the North American security industry, awarded by the US-based Central Station Alarm Association (CSAA). SecurTek monitoring stations are Underwriters' Laboratories of Canada (ULC) certified, meaning SecurTek meets or exceeds the highest industry standards with regards to call overflow, staffing requirements, response procedures, computer systems and backup power systems.  SecurTek offer burglary, commercial, fire, environmental, medical, video and residential monitoring services.