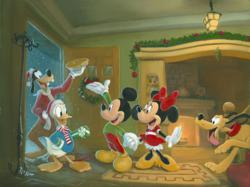 Los Gatos, California (PRWEB) November 26, 2012
The Amour d'Art Fine Art Gallery is excited to announce the 4th and final piece in the Disney Fine Art 2012 Holiday Collection. This new artwork from Rob Kaz celebrates the holiday season with some of Disney's most beloved characters: Mickey, Minnie, Donald, Goofy and Pluto. This heartwarming and inviting new piece offers a lasting, special, fun and unique conversation starter for collectors and all their holiday guests.
The latest addition to the Holiday Collection is entitled Rob Kaz "Home for the Holidays." The original is still available, as well as a Limited Edition on Canvas of only 50 pieces.

18×24 Original Oil on Canvas
16×20 Hand-Embellished Signed Limited Edition of 50 on Canvas
The Holiday Collection consists of four editions, each by a different artist, combining the magic of Disney with four inspirational holidays throughout the year: Valentine's Day, Independence Day, Halloween and Christmas. Amour d'Art has all available pieces in stock.
Now is the perfect time for collectors to add art to their holiday décor, as the Amour d'Art Fine Art Gallery continues to contribute 5% of the proceeds from the purchase price of all artwork to the Breast Cancer Research Foundation until November 15, 2012. After that, the gallery will begin donating the same percentage of proceeds to Canines for Kids.
Visit amourdart.com to learn more.
About the Amour d'Art Fine Art Gallery:
Amour d'Art owner and curator Carrie Scott worked in public relations, marketing and sales for nearly four decades. Throughout the years, whether on vacation, sightseeing, visiting someone or a new place, she found herself purchasing artwork at fine art galleries, shops, and wherever else she found pieces that inspired her. Her philosophy about art was, and still is, to purchase what you like; it can give you joy, comfort and inspiration.
The website is only meant to represent a taste of the gallery's vast collection at any given time. Please contact Amour d'Art directly if you are looking for something specific.