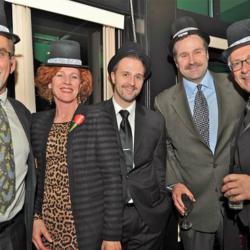 Delta, B.C. (PRWEB) November 26, 2012
The Rotary clubs of Delta doffed their caps to water filtration and re-mineralization company Santevia Water Systems at the Hats Off to Excellence Gala Awards on Nov. 16, when the local business won their Business Ethics Award.
The clubs, comprised of the North Delta, Tsawwassen and Ladner chapters, recognized businesses in the community which exhibited not only exemplary business practice, but personified the four-way test of Rotary International in conducting their business.
In keeping with its motto, "Service above self," the four way test, at the heart of Rotary International and each of its 33,000 clubs around the world, asks each of its 1.2 members to ask of himself or herself, in whatever they may do: 1) Is it the truth?; 2) Is it fair to all concerned?; 3) Will it build goodwill and better friendship?; 4) Will it be beneficial to all concerned?
In the course of the last year, Santevia has displayed many of these qualities -- for instance earlier in the year a large shipment of sold-out goods arrived that did not meet the owners Yvonne and David Anderson's quality standards, and they chose to halt the delivery to waiting clients. As part of their Santevia Gives Back philanthropy program, the couple also make an annual trip to Thailand where they donate time and resources to supporting two orphanages.
"Being an ethical business means more than just being honest and open with your clients and factories, it also means giving back to the community, at home and throughout the world," said Yvonne. "From the day Santevia opened its doors we have dedicated funds to our Santevia Gives Back program and everyone on staff is motivated by the work we do at the orphanage."
About Rotary International
Rotary International is the world's first service club organization, with more than 1.2 million members in 33,000 clubs worldwide. Rotary club members are volunteers who work locally, regionally, and internationally to combat hunger, improve health and sanitation, provide education and job training, promote peace, and eradicate polio under the motto Service Above Self.
About Santevia Water Systems
Santevia Water Systems Inc., located in Delta, BC Canada, manufactures and distributes water filtration and water mineralization products under the brand Santevia. The company's products are sold in Fitness Centers, Spas and Health Specialty Stores across Canada, USA, UK as well as online through it's own shopping cart and online Partner Referral Program. All products are built to ensure they adhere to the company's core values to offer Alkaline water products that are healthy, eco-friendly and cost effective.