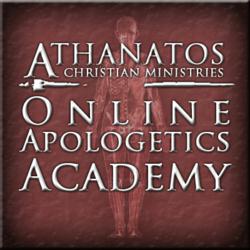 Nashville, TN; New York, NY; Milwaukee-Waukesha, WI; Chicago, IL; Los Angeles, CA (PRWEB) November 25, 2012
Athanatos Christian Ministries (ACM) is proud to have launched a virtual school where individuals can learn about the underlying basis of the Christian faith. ACM's Online Apologetics Academy seeks to equip people with answers for so many of the world's oppositions to Christian beliefs.
ACM seeks to make learning apologetics easy for people, with attention being paid to the variety of time each individual's life may allow for commitment to the program. ACM's Online Apologetics Academy offers several options for potential students.
The 3-5 week modules are designed with the busy person in mind. At an affordable cost and for just a few hours a week, allows anyone to become acquainted with some of the most important apologetics resources available. The student will learn about the facts of the Christian faith and lay a foundation for further, independent study. Courses will be made available throughout the year on a 'self-guided' basis. Start and finish on your own timeline. However, three times a year–in October, February, and May–facilitators will be 'on duty' if the student prefers some measure of interaction. The highest amount of interaction is offered to those who enroll in either our Apologetics Certificate Program or our Literary Apologetics Certificate Program.
The Apologetics Certificate Program is for the person who wants to truly familiarize themselves with a wide spectrum of Christian thought and prepare themselves for even deeper study. Whether for mere personal study or to help in the course of your ministry, you will find that our certificate program gives you the tools you need.
The Literary Apologetics Certificate Program was inspired by ACM's belief that the defense of the Christian faith should be mounted through the arts. ACM hosts a number of Christian writing contests and publishes books, with an emphasis on integrating a defense of the faith into storytelling (ie, through fiction). Our Literary Apologetics Certificate Program is aimed to help both apologists and authors think about how to communicate the Christian worldview in our ever-increasingly diverse, and often hostile, world.
All coursers are designed with the Christian in mind but can be useful for anyone interested in learning more about the foundations of the Christian faith. To learn more about the Online Apologetics Academy, or to find out how to enroll, visit their website.
About ACM:
Athanatos Christian Ministries, an apologetics ministry with an emphasis on defending the Faith through the arts and literature since its founding in 2008. ACM's purpose is to apply the Christian world view in creative contexts that range from Christian apologetics to education to literature and the arts and anything else it can imagine to edify the church. ACM has a significant emphasis on the arts and literature because it perceives that the culture has extraordinary influence on faith formation; usually a negative influence. For this reason ACM encourages Christians to participate in the culture in meaningful ways with works of art that exhibit excellence.