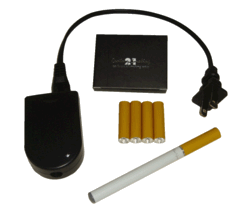 This is the biggest promotion we have ever had
Chicago, IL (PRWEB) November 26, 2012
Electronic Cigarette company 21 Century Smoking is cutting prices on all starter kits for the holiday season. The deal includes Blackjack, iDrink, Big Slick, and Roulette Starter Kits. These kits will all still include the company's industry best lifetime warranty. The deal begins Cyber Monday and will run throughout the holiday season.
21 Century Smoking electronic cigarettes will also be offering double rewards points for each starter kit purchased. Customers are able to redeem Rewards Points for discounts on future purchases.
"We wanted to create a deal that would offer the chance for friends and family to purchase kits as gifts at a highly discounted price. At this price, the Blackjack Starter Kit is selling for the same amount as a Blackjack battery," noted Brent Duke, President of 21 Century Smoking. "This is the biggest promotion we have ever had."
21 Century Smoking is based out of Chicago and has stores in 4 different states along with its Internet property. The company is the exclusive provider of the Blackjack electronic cigarette. With a unique range of product offerings, 21 Century Smoking is one of the most innovative companies in the electronic cigarette industry.
About 21 Century Smoking, Inc.
21 Century Smoking, Inc. is an electronic cigarette retailer and has been an industry leader since opening for business in 2009. 21 Century Smoking is the official retailer of the world famous Blackjack electronic cigarette. The company sells its products through its website (http://www.21centurysmoking.com) and in a number of stores and malls throughout the United States, including its flagship location in Chicago, IL.
21 Century Smoking also has locations at: Pacific View Mall in Ventura, CA; 7 W. Haley St. in Santa Barbara, CA; Westfield Gateway Mall in Lincoln, NE; 1551 N. Plainfield Rd. in Joliet, IL; Lincolnwood Town Center in Lincolnwood, IL; Westfield Franklin Park in Toledo, OH; Summit Mall in Akron, OH; Richmond Town Square in Richmond Heights, OH; Beachwood Place Mall in Beachwood, OH; Great Lakes Mall in Mentor, OH; and Parmatown Mall in Parma, OH.