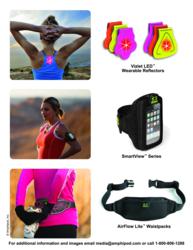 (PRWEB) November 28, 2012
Amphipod is a leader in the design and innovation of active and outdoor accessories with over 100 hydration, visibility, music/electronics and race-day products that fit the needs of all active sports enthusiasts. Amphipod uses a minimalist approach with every product inspired by natural ergonomic shapes for increased comfort and performance. Products available at Specialty Running Stores and REI. To see a list of dealers near you, go to http://www.amphipod.com.
Check out these great finds:
Vizlet Wearable Reflectors - New
Super versatile - These flashing LED reflectors are perfect reflective lights for winter training or walking the dog in the early morning or late night. SRP's starting at $10.

One touch activation.
Easy-to-attach with integrated dual magnets.
Come in multiple shapes and can be worn on the waistband, hydration pack, shirt, sleeve, collar, vest, belt/pack and more!!
Super bright fluorescent pink, orange and green.
Also available in a non-LED version, with high brilliance reflectivity.
Airflow Waistpack Series
Streamlined for the modern fitness enthusiast, the minimalist and lightweight, Amphipod AirFlow Waistpack series carries just what you need without the bulk of standard fanny packs. The body-integrated design rests naturally on the body for a comfortable lightweight ride. SRP's starting at $20.
Breathable ultra-stretch bounce-free comfort and adjustable belt.
Easy-access to contents with secure zipper closure.
Fully vented construction with expandable storage.
With 6 assorted styles and sizes to choose from, the AirFlow Series offers storage options for everything from keys to nutrition, to phones, music, cameras and more!!!
SmartView Series for Phones and Music
Carrying your phone and tunes has never been easier with these easy access, ultra-comfortable, open view-thru carriers. The SmartView Series comes in multiple shapes and styles to fit any phone or music player. A must for any active sports or outdoor enthusiast!! SRP's starting at $20.
Bounce-free solutions developed exclusively to meet demanding performance and quality expectations of active sports enthusiasts.
A model for every size phone and player.
SmartView models are designed specifically to lock-on to the waistband, attach to your arm, carry in your hand, or slide onto a belt. Protective clear View-Thru front panel provides full screen access and touch control in a slender moisture resistant design.
All models feature a spring-lock zipper closure with easy-grip detail.
Amphipod's patented lock-on design securely fastens to the waistband for bounce-free comfort and easy access.
About Amphipod, Inc.
From the beginning, Amphipod's premium products have given every outdoor sports enthusiast the fit, access and performance they need by developing products with the best ergonomics and natural shapes for increased comfort and performance. The "minimalist" of hydration, accessory packs, visibility and race day products, Amphipod provides the tools needed to customize running accessories for both training and race day.
For more information or additional images, contact media(at)amphipod.com or call 1-800-806-1288. Log on to amphipod.com for additional product information.