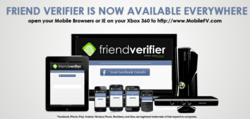 "We've received such incredible feedback from users wanting to have the ability to use Friend Verifier from anywhere. So we focused on developing our mobile site that can be accessed on all mobile phones as well as the Xbox 360."
(PRWEB) November 27, 2012
The wildly popular Facebook app Friend Verifier has gone mobile! Launched this past March, Friend Verifier has given Facebook users the ability to scan their Facebook friends and pending friend requests against the national sex offender registry.
Since March, Friend Verifier has been mentioned all over the internet, radio and television, where over 650,000 users have been scanned against the sex offender registry.
Now VerifyAnybody Inc. launches an improved version of Friend Verifier that is accessible across all major mobile platforms and the Xbox 360, as well as an improved matching algorithm.
The new matching algorithm has a built in tri-color system; yellow where if a friend's name matches with a sex offender, orange if their name and city or state matches, and red if their name,city or state and date of birth matches.
"The feedback from our users has been amazing. It has helped us shape this update to meet user expectations as well as broaden the access to Friend Verifier." Said Joe Penora, CEO of Verify Anybody.
"We can't expect social networks and dating sites to be our parents, telling us who and not to friend online. Our goal is to develop the best tools available so that we as indivduals can make better informed decisions in our lives both on and offline."
With this update users can now access Friend Verifier on their iPhone, iPad, Android phones and tablets, Windows Phone and Blackberry. Additionally users can access Friend Verifier on the Xbox 360 via it's latest update that includes Internet Expolrer.
"Many parents have commented that they want to use our app as a tool to talk to their kids about the dangers of Sex Offenders. We thought by creating a mobile site that is accessible on not only every mobile phone platform but also the Xbox 360, families can now easily use our app from the comfort of their living rooms, and have that very important conversation with their kids."
To access Friend Verifier, users can still visit the Facebook App at https://www.facebook.com/friendverifierapp or visit the mobile website, http://www.MobileFV.com from any Internet browser on mobile phones, tablets and the Xbox 360.