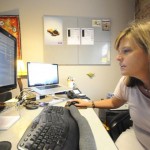 "When kids are anxious or stressed, they don't always go to their parents and some things are too embarrassing to discuss with friends so they go online looking for answers and advice." Angie Burton
Chattanooga, TN (PRWEB) November 27, 2012
As a mom of two teenagers, Burton sees first-hand the issues they encounter daily. Having an outgoing 18-year old daughter in public school and a more introverted 15-year old son in private school, Burton's kids are very different but face many of the same issues. "Although my kids are complete opposites, I see them deal with the same frustrations and worries," says Burton. "When kids are anxious or stressed, they don't always go to their parents and some things are too embarrassing to discuss with friends so they go online looking for answers and advice."
Whatever the issue, whether it's dealing with sexual harassment in the workplace, concerns about the risks of steroid use, or looking for advice on college admissions, Burton researches the topics to learn as much as she can before she writes her posts and adds her own perspective. As with most mom bloggers, the biggest challenge to maintaining her blog is finding time to research and write articles while working full-time plus being a wife and mom of two active teenagers. Eventually, she hopes to bring her kids and husband on board to contribute articles and perspective. ""The blog is still very new, but I'm excited about the potential to making it a family endeavor," comments Burton.
Burton stumbled across the idea of Application Bling when helping her own daughter land a job. Application Bling is a name she had trademarked for a colorful cling that job seekers apply to a job application that highlights their goal plus best qualitiies and achievements. Burton is passionate about teens and young adults establishing a strong work ethic. "As a parent, I want my kids to have a work ethic, a sense of pride, and to know the value of a dollar," says Burton. "I think today's young people want to learn to make their own way, and that parents want to help." Burton created the blog website to help teens and young adults get hired as well as to be a one-stop resource for all the challenges the millennial generation face every day. Articles are posted weekly and cover subjects like jobs tips, advice for college admissions, financial tips, current events and issues facing the millennial generation.
About Application Bling
Application Bling is a colorful cling applied to a job application that highlights a job seeker's goal, best qualities, and achievements. Much like a cover letter enhances a resume; Application Bling compliments a job application and gets it noticed fast. Created in 2011 by a wife and working mom of 2 teens, Angie Burton is passionate about young adults establishing a strong work ethic.