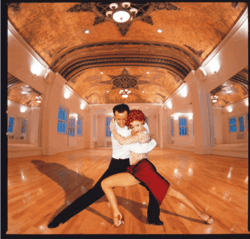 "Love is Love."
New York, NY (PRWEB) November 26, 2012
EnGAYgedWeddings.com teams up with "Dancing with the Stars" & "So You Think You Can Dance" Choreographer, Melanie LaPatin.
New York City Based, "Dance Times Square" is now a Featured Vendor on EnGAYgedWeddings.com specifically targeting the Gay Wedding Market.
Melanie LaPatin, Choreographer to the stars and Choreographer for TV shows like "Dancing With The Stars" on ABC and "So You Think You Can Dance" on FOX.
Melanie is recognized as an innovator in Dance throughout the world. World Dance Champion with over 100 championship titles.
Melanie is in high demand as a coach of top dancers around the world and as a choreographer for actors in film, television and Broadway (Dirty Dancing). She has choreographed and appeared on film in such major motion pictures as Dance with Me, The Thomas Crown Affair, Let It Be Me and The Last Days of Disco. She has most recently appeared as a choreographer on FOX's So You Think You Can Dance and So You Think You Can Dance Canada.
As a dance coach and choreographer, she has worked with some of the most renowned film and television personalities including Pierce Brosnan, Emma Watson, Renee Russo, Vanessa Williams, Cameron Diaz, Tim Robbins, Susan Sarandon, Russell Crowe, Patrick Stewart, Leslie Caron, Jennifer Beals, Harvey Keitel, Campbell Scott, Barbara Walters, Melissa Leo, Matthew Morrison, Megan Mallo, Sutton Foster, Dwayne Wade, and Robin Williams. She recently wrapped filming for the movie Leading Ladies, in which she not only serves as choreographer, but stars as Sheri Campari, a mother who swears off men and lives vicariously through her daughters. In 2008, she choreographed a photo shoot for Harper's Bazaar called "Dancing with the Designers" that featured Jessica Biel and high-end designers Vera Wang, Oscar de la Renta, Diane Von Furstenberg, Calvin Klein and Zac Posen.
I asked Melanie, "What are your thoughts on LGBT Weddings?" She responded with a simple statement. "Love is Love."
When I asked Melanie why she wanted to market her dance company to cater to Gay Weddings her response was 90% of her employees are gay.
She went on to say, "The first dance is a special moment, and you should prepare for that and make it memorable". It's the first dance of life! Isn't that what we do? Dance through life?
It also lets the couple get rid of the stress of planning the wedding, and just have fun. It makes the couples closer and strengthens their relationship. Many of the couples continue to dance and come back even after the wedding.
We have several Gay Couples that come to our studio, it is very popular and Gay Weddings are the future and is the direction of things to come. We are very happy New York has become legal and it has definitely boosted the economy.
We are very excited to be featured on EnGAYgedWeddings.com and look forward to a very long and happy relationship.
For more information on Dance Times Square, please contact Clyde at (212) 994-9500 New York