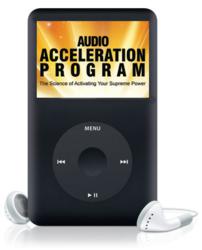 "Cecil and Mark… The President and I share your hope and optimism for our Nation's future… Our strength as a country depends on engaged citizens like you…"
BRANDON, FL (PRWEB) November 26, 2012
Cece Suwal and Mark Brener are co-authors of the bestselling "A Guide to Your Supreme Power", a wealth of advice for achieving success and happiness. The inspirational book has been globally acclaimed by political, spiritual and business leaders, as well as educators, celebrities and the media. Now, just in time for the gift-giving season, "A Guide to Your Supreme Power" is also available in an enhanced program as a collection of audio discs.
Both the book and discs teach Rational Optimism™ - the authors' unique and revolutionary concept that has even earned accolades from the White House. First Lady Michelle Obama wrote: "Cecil and Mark… The President and I share your hope and optimism for our Nation's future… Our strength as a country depends on engaged citizens like you…"
Who can benefit from increased optimism? Each day millions of people deal with depression, anxiety, stress, and general disappointment for the path their lives have taken. In a world where negativity is the norm, "A Guide to Your Supreme Power" is the beacon that has helped thousands of readers unlock the true potential of their lives.
Authors Cece Suwal and Mark Brener teach Rational Optimism™ through their best-selling book, but now a greater access and understanding, intimacy and interactivity is available through the Rational Optimism™ Audio Training Program – the complete collection of audio discs for "A Guide to Your Supreme Power". This program reveals the full potential of Rational Optimism™ and is scientifically designed to enhance the brain's ability to absorb information and react positively to life events.
Everyone experiences moments of "Why did I do that?", when their actions directly deter them from achieving their long-term goals. The Audio Program works to prevent these occurrences by enhancing cognitive thought and advancing the way one interprets and responds to daily events. The work of Cece Suwal and Mark Brener has been nationally recognized as a unique resource endorsed and used by doctors, lawyers, businessmen, thought-leaders, and the public. The recognition for this product from top authors, motivational speakers, life coaches and CEOs is unprecedented.
"A Guide to Your Supreme Power" and the Rational Optimism™ Audio Training Program are the answer to creating positive life-changing events. The program stimulates powerful thoughts and creative solutions which can transform the quality of any life. Thousands of people have already seen benefits from the bestselling book. Both "A Guide to Your Supreme Power" and the Rational Optimism™ Audio Training Program are available online at http://www.theoneworldinitiative.com/audioacceleration.html.
ABOUT CECE SUWAL AND MARK BRENER
Mark Brener and Cecil (Cece) Suwal co-founded The One World Initiative and co-authored "A Guide to Your Supreme Power" - a national Bestseller. With English as his fourth language, Mark has lived and studied across the globe and holds an MBA from Israel. Cecil graduated Summa Cum Laude from Fordham University and is a member of Phi Kappa Phi; she is now working toward a doctorate in psychology in the United States. Cece and Mark have been featured on worldwide news media, such as ABC, The New York Times, The New York Observer, Fortune/CNN Money, The Guardian UK, and many more.
JV Broker International is the Legal Representative for this launch. For more information, please contact David Canham directly at 1 (866) 281-0847 or email admin(at)jvbrokerinternational(dot)com
Or For more information, contact Cece Suwal and Mark Brener of the One World Initiative at Phone: (917) 832-1090 or email them at media(at)theoneworldinitiative(dot)com.
# # #