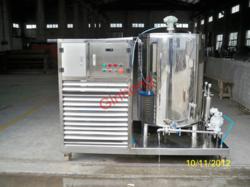 Jinhu, Jiangsu Province (PRWEB) November 28, 2012
Ginhong is one of the premier companies which manufacture the perfume mixer which is used by cosmetic industry. They will continue to manufacture the perfume making machine for distribution to industries around the globe.
The company based in China has been one of the leading manufacturers of the perfume mixer. They will continue to distribute the XS perfume making machine. The machine consists of a perfume mixing tank, filtration system, chilling system and a diaphragm pump. The tank is made of single-jacketed insulation. The chiller can be taken down to -15 degrees Celsius. It is a high quality perfume machine distributed by the company.
The XS perfume mixer is a complete perfume making machine as it can perform the entire process all in one unit. The mixer can mix, freeze, filter, purify and transfer the product. It can be used to make perfume or cologne. The control panel on this piece of sophisticated machinery is simple to use as it is a push button model. It is also equipped with both a pneumatic and mechanical agitator to improve the machine's performance.
Perfume mixers can be viewed on the company's website at http://www.ginhong.com/. They will continue to be one of the leading companies which supply these types of products for use in many different industries. Contact information is also found on the website.
About Ginhong
Ginhong opened their first facility in Jinhu, Jiangsu Province. The company grew quickly and the expansions were too much for the small facility so they had to relocate to a facility which was larger to handle the growing demands. Engineering staff conducts research, designs and manufactures a full range of mixers and emulsifiers. These machines are used by many different industries to make various substances. They use the emulsifier to make cosmetics, pharmaceuticals and food products. Ginhong is a reputable mixer company which ships their mixers to companies all around the world.